See all Summer NAMM 2012 news items »
A.I.R. Music Technology has introduced Ignite, a new software solution for music creation.
Ignite is a standalone music ideation and creation software. According to the company, "it's not another DAW with complicated controls or engineering-centric workflow. In fact, it's not a DAW at all."
Songs can then be exported to a sequencer or DAW if desired.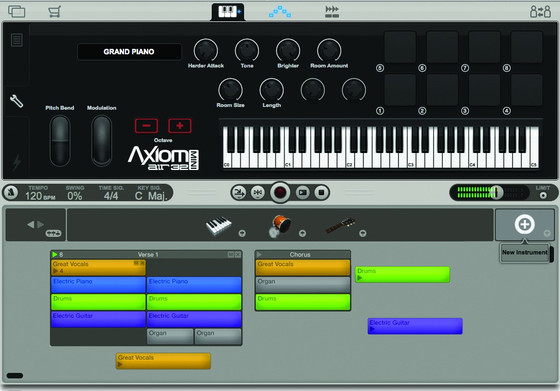 At the heart of Ignite is its non-linear Arranger, which replaces the traditional timeline and tracks-and lanes format. Open the software, connect an M-Audio keyboard and start capturing musical ideas. Individual ideas can be snapped together in pairs or groups to construct songs. Ignite's Smart MIDI technology assists in the creation of chords, phrases, patterns, and arrangements, and five virtual instrument expansions are included. All of Ignite's built-in instruments and included expansions are based on A.I.R.'s virtual instruments, which were originally developed for Pro Tools.
Availability:
Ignite 1.0 is focused specifically on the keyboardist's workflow. Beginning in Q3 of 2012, all M-Audio keyboard controllers will ship with Ignite included, and other brands in the inMusic family will include Ignite with select products.
This initial product release will be followed by a number of scheduled releases designed to address the complete music creation process. These processes span content access, music creation, collaboration, finishing, publishing and live performance for both keyboard-based musicians and those recording audio from analog sources.
A.I.R. will unveil Ignite at Booth 800 at the 2012 Summer NAMM show in Nashville, Tennessee, July 12–14.
More information: inMusic
Be the first to post a comment about this news item
Viewers of this article also read...