Hot news
NAMM
[NAMM] Livid Instruments previews Base
See all NAMM Show 2013 news items »
Livid Instruments posted on the internet a picture of their new controller named Base.
It seems that Livid Instruments has chosen the full touch control technology on this new DAW controller. Though we cannot see the entire surface, we can see on the picture a touch multicolor pad matrix and what looks like touch faders and buttons with multicolor indicators.. A 2-digit screen is also included.
We'll have to wait, maybe until NAMM 2013, to discover this new controller. In the meantime, you can imagine what you're going to be able to control with it: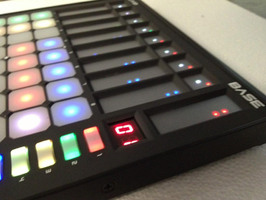 Viewers of this article also read...