IK Multimedia Amplitube 2.6
IK Multimedia announced today the release of AmpliTube 2.6 for iPhone/iPod touch/iPad.
This special update includes the availability of 5 new gear models from amplifier and effects manufacturers: Soldano, Ampeg and T-Rex.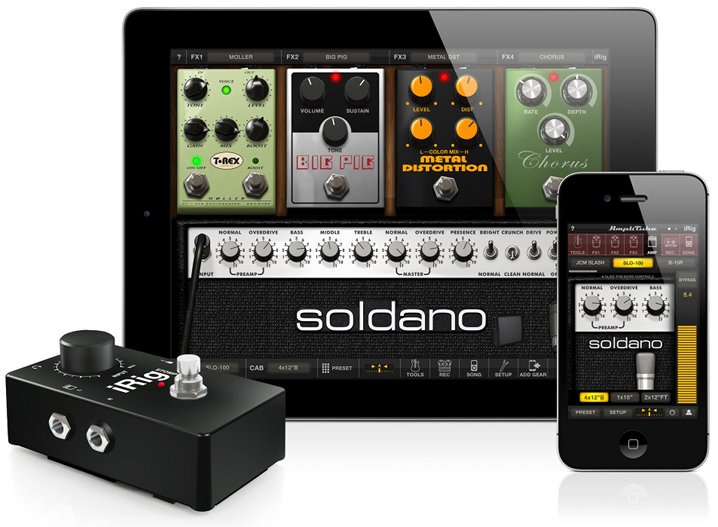 The release of AmpliTube 2.6 for iPhone/iPod touch/iPad coincides with the shipping of IK Multimedia's newest mobile interface,iRig Stomp - a stompbox style mobile guitar interface (based upon the iRig guitar interface adapter) - providing a solution that can be integrated into a player's pedalboard and connected to amplifier and PA systems.
AmpliTube for iPhone/iPod touch/iPad is a guitar/bass rig and recording studio. It replicates a traditional guitar signal chain with pedalboards, amplifier heads, cabinets, microphone models and an expandable multi-track recording studio.
On the amplifier side, AmpliTube 2.6 adds the voicing of the Soldano "Super Lead Overdrive" SLO-100 Watt head. It also offers to bass players the Ampeg B-15R Portaflex "Flip Top" model.
Three new offerings come on the pedal front: the T-Rex Engineering "Moller" Classic Overdrive, the AmpliTube Metal Distortion pedal for gain and sustain and the AmpliTube "Big Pig" Distortion pedal featuring tones from sustain and compression to "buzzsaw" distortion modelled on classic vintage must-have pedals.
Price & Availability:
The new official Soldano, Ampeg and T-Rex gear along with the AmpliTube Metal Distortion and AmpliTube "Big Pig" Distortion pedals are included in the AmpliTube 2.6 update now available in the App Store.
Existing users of AmpliTube for iPhone, iPod touch or iPad can purchase them as individual models a la carte starting at $2.99/€1.99.
For new users, AmpliTube 2.6 costs $19.99/€15.99. An LE ($2.99/€2.39 - iPhone only) and a free version of AmpliTube 2.6 are also available with a limited set of gear models included.
For more information and video demos, visit www.amplitube.com/iphone and www.amplitube.com/ipad. For more information on the range of IK Multimedia iOS audio interfaces, visit www.amplitube.com/irig and www.irigstomp.com.
Viewers of this article also read...