IK Total Studio 3 & Total Workstation XL
IK Multimedia announced that Total Studio 3 and Total Workstation XL are now available.
IK Multimedia's Total Studio 3 Bundle features virtual instruments, guitar and bass tone-shaping tools, plus vintage analog mastering gear.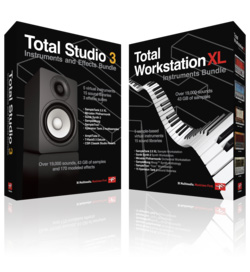 The new IK Total Workstation XL Bundle is a sound workstation. It gives you a range of instruments and sounds, including 5 workstations. You get 43 GB of samples, including 15 Xpansion Tank 2 multi-sampled instrument collections. All told, 20,000 sounds are provided, covering instruments and styles from orchestral to rock, hip-hop to electronica and more.
Additionally, the Total Workstation and Total Studio bundles have been updated and are now available with new pricing and a special introductory offer incentive.
Pricing & Availability:
Total Workstation XL will retail for $299.99/€239.99, with a special introductory offer of only $199.99/€159.99 ending October 31st. Total Studio 3 will retail for $399.99/€319.99, with a special introductory offer of only $249.99/€199.99 also ending October 31st.
Viewers of this article also read...