TB Audio Model 23N 500 mic preamp
The new TB Audio module is a microphone preamplifier ready to be installed in a 500 lunchbox.
The TB Audio signal path comprises a solid-state input stage followed by NOS Phillips 5534 NOS op amps and the preamp is described as "quiet".
The Model 23N features a switchable 48V phantom power with LED indicator, a gain knob with a 20-55dB range or 0-35dB with the pad enabled, a phase reverse switch and a clipping indicator.
The preamp is available in the US for $399. More info at tbaudiogear.com.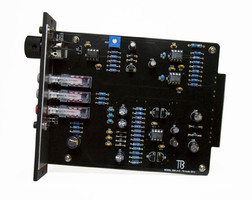 Viewers of this article also read...
Candid comments from the renowned producer/engineer about gear, mixing and more

One of the best known and most successful producer/engineers in the business, Grammy-winner Jack Joseph Puig has worked with heavyweights like U2, Green Day, Stone Temple Pilots, John Mayer, Fergie, Eric Clapton, Queen Latifah and countless others. Puig wears many hats, including as an executive vice president at Geffen Records, and as Director of Creative Innovation for Waves, where he helped develop the Jack Joseph Puig signature plug-in collection.

Fluid Audio introduces the C5W monitors

Fluid Audio has improved its C5 nearfield monitors for home studio in the new C5W black and white version.