MeldaProduction MStereoGenerator
MeldaProduction has announced the release of MStereoGenerator, an artificial stereo image generator.
MStereoGenerator is a mono to stereo (or even surround) expander, which is designed to make your tracks sound wider, stronger and punchier. It suited for most audio material from vocals and saxophones to drums. Integrated equalizer lets you adjust which parts of the spectrum you want to expand and stereo scope gives you an immediate view of the resulting stereo width.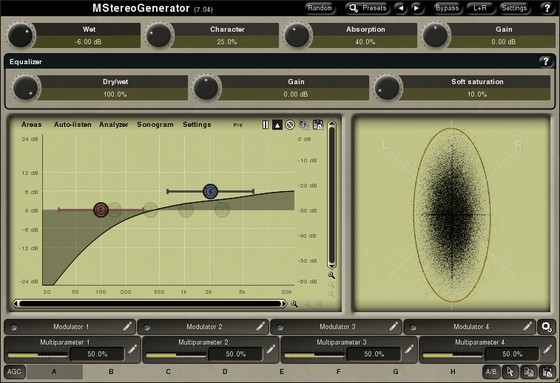 MStereoGenerator Features:
Widening algorithm.
2D stereo field analyzer and channel peak meters.
4 global modulators.
M/S, single channel, up to 8 channels surround processing.
Smart randomization.
Automatic gain compensation (AGC).
MIDI controllers with MIDI learn.
Optimized for SSE and SSE2 processors.
Global preset management and online preset exchange.
Automatable.
Supports VST, VST3 and AU interfaces on Windows & Mac, both 32-bit and 64-bit.
Pricing & Availability:
MStereoGenerator is available for the introductory price of 20 EUR (regular 50 EUR). The plug-in is free to MTotalBundle and MMixingBundle users.
MeldaProduction has also released MStereoScope, a freeware effect plug-in.
MStereoScope is a stereo width analyzer, which also lets you solo specific parts of the signal – mid, side and separate channels.
Furthermore, MeldaProduction's plugins were updated to version 7.04, providing some more fixes and optimizations, including the addition of virtual keyboards to all text input fields and more.
More information: MeldaProduction
Viewers of this article also read...