The iPhone is a great little piece of machinery. It can do anything! What's the weather going to be like in Chicago tomorrow? At what time does Police Academy 17 run again? 7:20pm. A Bomberman game? No problem-o. Lady Gaga's latest hit? You got it. We're just missing some useful tools for musicians... You think? They are already here.
The iPhone is a great little piece of machinery. It can do anything! What's the weather going to be like in Chicago tomorrow? At what time does Police Academy 17 run again? 7:20pm. A Bomberman game? No problem-o. Lady Gaga's latest hit? You got it. We're just missing some useful tools for musicians… You think? They are already here.
The iPhone's first advantage is that it's a phone, so it spends most of the time in your pocket, being accessible at any time. Its main asset is that its OS is open to third-party applications. In other words, you can download small programs–made by independent developers or by big companies– for lots and lots of possible applications. It's quite impressive to see what these developers have to offer: an ultrasonic mosquito killer, a spirit level, a software that uses the sound print of a song to recognize it… In short, for every taste and every need, there are currently about 80,000 free or paid applications registered at https://appshopper.com/.
For audio heads like us, this has become quite interesting: the music category boasts over 2,400 very-poorly-sorted applications (when will we get filters and subcategories in the AppStore?). You'll find the best and the worst you can think of: lots of applications which promote artists or radio stations, and even some which only display animations, song lyrics or artist info when a MP3 file is played. The finest of all is Shazam, an application that recognizes music on the basis of an audio sample (convenient to get the title of a great song playing on the radio). When it comes to applications developed to create music, there are six main categories:
Virtual instruments (guitar, piano, drums, synth, etc.)
Tools (meters, tuners, chord dictionaries)
MIDI control surfaces
Sequencers (most of them including a sound generator or a sample player)
DJ applications (that allow you to mix and synchronize two tracks)
Digital audio recorders
We could actually write a whole article about each of the categories, but given that AudioFanzine is about "Audio, " we thought we'd focus on the recording tools–specially considering that the iPhone could become a must have for on-location recording.
From dictaphone to multi-track recorder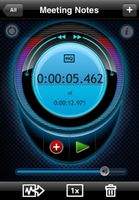 Apart from the Dictaphone software provided with your iPhone, you'll also find several notepad-like applications in the AppStore that allow you to quickly record audio, as well as comment and sort the audio files. The best tool In this category is the iProRecorder developed by Bias (well-known for Peak, a Mac-only audio editor). With its wonderful GUI, the application is simple and well thought out: recording can be started and stopped incredibly fast and with three different quality levels (16 bit WAV format at 11, 22 or 44.1 kHz). Large VU-meters give you visual control on the signal and you can even set a count-off and the recording duration. After recording, you can play the files at different speeds (normal, 1.5x or 0.5x), boost the volume, and easily shuffle back and forth along the file using a sort of jog wheel. Add the possibilities to tag, comment, and illustrate all your files before emailing or transferring them directly to Peak, and it shouldn't take you long to see what an interesting tool this can be for journalists or musicians, and all for just $2.99.
One track is enough for an interview, or for a musician who wants to record a single riff or a melody. But if you want to make small demos you'll need a more comprehensive tool. And that's where this small Apple gadget can grab good market share in a sea of audio market leaders. There are several multi-track applications: besides the 4 Tracks Classic by http://www.littlecodeshop.com, the StudioApp by https://www.krasidy.com, and the GigBaby by http://www.iometics.net, which are more or less ok, two other applications really caught our eye: the ergonomic FourTracks by Sonoma Wire Works, and the comprehensive RecTools08Pro.
FourTracks: give me four!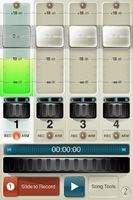 Let's start with this multitrack recorder made by
Sonoma Wire Works
. The software is straight and simple: it has four tracks, each with a volume fader and pan control. Just load the track you want to record (only one track at a time so you can only record mono signals), start recording and that's it!
If the signal ever clips, then a small red LED above the track lights up to indicate it. A jog wheel also allows you to move forward or backward along the recorded material.
The Song Tools menu provides a very comprehensive metronome function: BPM, 3/4, 4/4 and 6/8 in different styles (JM Rock, Pop, Hi-Hat, etc.). And to top it off, it also includes a tap-tempo function.
You can also duplicate a song, so you can keep several versions corresponding to each stage of the composition. What's more, there's a function that allows you to bounce two tracks to one–just like we used to ping-pong tracks on our old four-track tape recorders!
Finally, you can save, load, and rename your project, as well as transfer it to your computer via WiFi and your usual browser, ending up with four separate tracks. Very convenient to put the final touches in your favorite sequencer!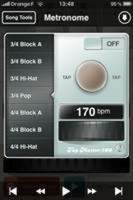 In practice, FourTracks is very practical and easy to learn. Even though it doesn't provide editing functions it is a great music notepad. For your information, it can record signals at 44.1 kHz/16 bit and even offers an output compressor/limiter. For $9.99, it's a bargain!
We'll keep an eye on it, specially now that Sonoma just launched InstantDrummer, an application that allows you to create comprehensive and realistic-sounding drum tracks for pop/rock, based on real audio drum loops, with integrated EQ and compressor, and three ambiance levels for each loop. It will certainly be interesting for many people once it can be used together with FourTracks in an upcoming update. Moreover, Sonoma will surely create additional banks for other music styles…
To convince yourself, check out these nice videos (1 and 2) from a band recording a demo with the Sonoma software.
Stunning isn't it? But you've seen nothing yet: with RecTools08Pro you'll not only be able to record sounds, but also edit and mix them.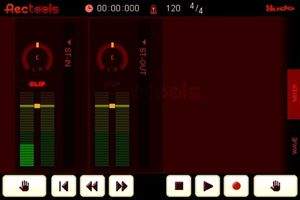 RecTools08pro
is an eight-track recorder offering just about everything you might wish for: track editing, EQ, audio pool… In short, it's the best thing available for the iPhone. Let's start creating a project, which you can obviously save, rename, load, etc. To export it you'll need a browser and WiFi, just like with FourTracks. The audio pool provided allows you to to import, save, and transfer to your computer any audio file previously recorded. This advanced function comes in very handy and it's just amazing for an iPhone.
Compared to FourTracks, the main differences are the number of tracks and the editing functions. It is actually possible to copy, paste, duplicate, shorten the beginning or the end, and split one or several audio objects at once. And you even get a redo/undo function! All editing can be made with or without grid (from 1/1 to 1/32 like in "big" sequencers), and it includes all other standard functions: comprehensive metronome, mixer with volume, pan, mute, solo settings… And, best of all, every track has a 3-band parametric EQ.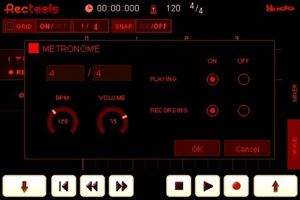 For $9.99 (there are also a two-track and a one-track version available for less), it is really worth it. All the more considering the rumors going around about the integration of effects and virtual instruments in a future update. But even without that, the ergonomics of this tool leaves all other portable recorders far behind. Compared to the iPhone's touch screen, Zoom's H4's LCD display, sub-menus and key combinations, or Korg's
Micro BR
, seem totally obsolete. Yet, ergonomic design is one thing and sound quality is another- and that's where dedicated portable recorders have an edge on the iPhone.
Conceived as a telephone, the sound quality of the iPhone's mic is far behind a couple of compact condenser mics. Furthermore, the iPhone's connectivity is limited to a single four-pin 1/8" connector that handles the stereo signal for the headphones and the mono signal from the mic simultaneously. They can't compete with the 1/4" and XLR connectors, or the condenser mics of most dedicated portable recorders. Unless we consider…
iMics
There are already a couple of products out there that try to compensate for these weaknesses: some of them are only available in Japan, like the Logitec LIC-iREC03P or the TuneWear SSR, but other models are available worldwide. The latter are offered by two pro audio manufacturers: Blue Microphone and Alesis.
What up Mikey?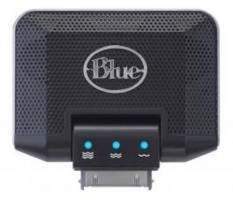 Let's start with the Mikey, a sort of microphonic protuberance you plug directly into your iPod's or iPhone's jack. Apart from the fact that it increases the sound quality of your recordings, it also gives you the possibility to make stereo recordings thanks to its stereo condenser diaphragm, in case the software allows it (RecTools08Pro does but FourTracks doesn't). You can place the Mikey in five different positions to cover almost every angle (180°), and it has three sensitivities available (via the gain selector) to adapt the input level to the acoustic power of the source: from the grind of a heavy metal gig to the art lecture of Mrs. Smith.
The Mikey also has an integrated speaker but it's useless: it sounds even worse than the iPhone's speaker! We didn't think it was possible but Mikey did it. Hats off! Also notice that the Mikey is powered directly by the iPhone so it doesn't require a separate battery: good point for simplicity, bad point for ergonomics. The manufacturer claims that the mic works not only with the iPhone 3G and 3GS, but also with the iPod Touch 2G, Nano 2G, 3G and 4G, iPod Classic and iPod 5G. While the list is accurate, we have to mention the error message you get when connecting it to an iPhone (even though everything works very well after that), and that the Mikey is not compatible with the first generation iPod Touch.
To keep it short: here you have a couple of samples made with an acoustic guitar and the iPhone's internal mic, as well as the Mikey.
Acoustic guitar, Acoustic guitar
As you surely noticed, the Mikey allows you to get a decent sound quality but it can't compete with more expensive portable recorders. Nonetheless, the sound improvement compared to the iPhone mic–which is still only a phone!–is huge. The only con is that the product is rather bulky in size and it is a bit pricey.
On the other hand, in so far as bulky dimensions and high prices are concerned, Alesis surpasses with its ProTrack, which serves as a dock for your iPod or iPhone. Compared to all other competitor products, this device has only advantages: it has a couple of condenser mics mounted in an X/Y configuration, two 1/4"-XLR combo connectors with independent gain controls, and a 1/8" headphones connector. It also includes mic pad, low cut filter, and limiter, and it is powered by four AAA batteries (for five hours of battery life), or a power supply which can provide phantom power.
Is it worth it?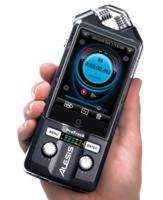 If you combine a RecTools08pro and an Alesis ProTrack, the iPhone could be an alternative to a stereo portable recorder. However, the performance is not enough to compete with the four-track
Zoom H4n
, for example, which provides a lot more functions (multi-FX, guitar input, etc.), and allows you to record four tracks simultaneously, which is still impossible with an iPhone application due to the phone's limited power. You also have to consider that the ProTrack makes the phone bulkier and you'll have to take the iPhone out of the dock if you want to make a phone call. You gain connectivity and audio quality but lose flexibility and ease of use.
Overlooking these minor drawbacks and looking only at the price, a RecTools, a ProTrack, an iPhone, and a one or two-year phone contract can be three times as expensive as a Zoom H4n, a Korg Micro BR, or a Tascam DP-004,… But then again, if you consider how many products it can replace for few bucks (tuner, chord dictionary, sequencer, metronome, controller, etc.), the iPhone might be a good deal. We will need to expand on all these applications in a future review.
Conclusion
With very affordable applications and some hardware enhancements, the iPhone can surely become a multi-track recorder for anyone (journalist or musician) willing to give up some audio features (transducer quality, simultaneous four-track recording, connectivity) to enjoy its excellent usability and the advantages of an all-in-one solution you can carry in your pocket. Just as the digital camera market is waning due to mobile phones, the portable audio recording market could also face strong competition from the iPhone. This means that dedicated products will have to introduce technological improvements, like color touch screens, if they want to survive in the future. We'll have to just keep an eye on it.