We reviewed the Fender Super-Sonic 22 combo in September 2010, and it seduced us with its numerous positive features. A few months later, the American manufacturer decided to complete its range and launched the 100 Series including a 100-watt amp head, two speaker cabinets and a combo amp. Today, we want to examine the head closely...
The new 100 Series brings not only more output power, but also some very welcomed changes like an additional clean channel and a Notch Tune control in the lead channel. But let's start at the beginning…
Unpacking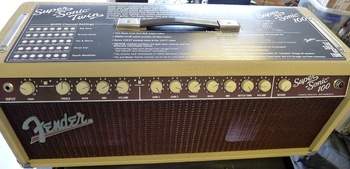 Unpacking is rather painful because of its weight: 53 lbs. are no joke! Later on you'll understand why the Super-Sonic 100 head is so heavy… The design is very nice and the head is available in two different finishes: Black/silver or Blond. We received the Blond version, which is a good thing because we like it better. However, the finish presented a minor problem: on one of the corners of the birch plywood cabinet, a small piece of vinyl covering was not perfectly glued. It's a small detail but it's a pity for an amp in this price range. The amp isn't what you'd call compact (10.53" × 26.25" × 10.5") but it includes many accessories: a nylon protection cover, a very rugged 4-button footswitch and a comprehensive user's manual with diagrams.
Under the hood we discovered seven 12AX7 tubes for the preamp stage (the Super-Sonic 22 had only five preamp tubes), four 6L6 power tubes (twice as much as in the 22), and a pair of 12AT7 tubes for the reverb. This makes a total of 13 tubes — hopefully this won't bring any bad luck! In short, this head is fully packed with valves, and also with a solid-state rectifier and a big transformer! Now you know why it is so heavy…
Now, let's have a look at the front and rear panels.
Front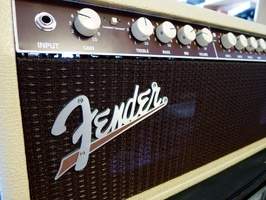 The front panel provides controls for the two clean channels (yes, there are two, didn't I mention that before?), for the lead channel and for the reverb. The controls of the clean channels are very simple: 3-band EQ (bass, mid, treble), gain and volume controls. A switch to the right of the gain allows you to select either the Showman circuitry (Twin Reverb Blackface) or the Bassman circuitry (Tweed Vintage). Note that if you crank up the volume of the clean channel, the gain acts as a single volume control like old vintage Fender amps did. Another switch turns the lead channel on. The latter offers more settings than the clean channel… First of all, it has two gain controls — primary and secondary gain — allowing you to set respectively the distortion amount and sustain. In fact, the second one allows you to thicken the sound and make everything sound fatter. You also get a 3-band EQ and a volume control. But the main new feature in this channel is the Notch Tune setting, which gives you the possibility to choose the frequency affected by the mid band of the EQ. This allows you to go from a typical American sound to a more "British" response and everything in between. As you can hear in the sound samples, this control changes the tone radically and allows you to freely shape your sound. We had already seen similar features in competitor products (Blackstar) and we are happy to find it again on Fender's Super-Sonic! Let's close this front panel overview with the reverb, a spring Accutronics system like on the small 22-watt combo we already reviewed: Why change a winning team?
Rear
The rear panel is fully packed with controls, connections and switches. You'll find the standard Power and Standby switches, and also an Arena/Club selector to reduce the output power from 100 to 25 watts. This can be very useful for recording sessions and rehearsals. But be careful: you should only change this setting when the amp is off or in standby mode. The FX loop features a pair of controls to adjust the send and return levels so it always matches the gear you are using, regardless of whether it's a stompbox or line-level effect. You also get a line-level Preamp out on a 1/4" TS jack. Do note that this signal is post-reverb. You can also hook an external preamp directly to the power stage using the Power amp input. And you can connect your speakers to a pair of speaker outs (Main and External) with a 4/8/16-ohm impedance selector. Almost any setup is possible with this head. The footswitch connector will allow you to connect the very rugged 4-button footswitch provided for channel control (clean/lead), voicing selection (Bassman/Twin), reverb and FX loop bypass.
The rear panel also provides a Damping control to adjust the speaker damping. This parameter manages the interaction between the power tubes and the speaker. Last but not least, an auto-bias allows you to select the polarity temperature (warm/normal/cool). Very classy!
Now that you know all control elements of the amp, let's plug in a guitar!
Sound
In order to complement the Super-Sonic 22 review, we placed special attention on the amp's new features, which means the two clean channels and the lead channel's Notch Tune control. So we compared the Bassman channel (the same as in the 22-watt version) with the Showman channel (in fact, a Twin channel) using a Telecaster and a Les Paul. And we were not surprised in the least: both channels sound extremely good although their response is very different. Depending on the channel selected, you get either the warm and round Bassman tone or the bright response of the Showman, which gives the amp a useful versatility. From jazz to funk, everything is possible, and the tone stays always well-balanced. There is no doubt: Fender knows how to make a clean channel sound good! Here are some clean sound samples with the Les Paul and the Telecaster so that you can make up your own mind:
Les Paul Neck Bassman

00:14

Les Paul Neck Showman

00:14

Telecaster Neck Bassman

00:22

Telecaster Neck Showman

00:22

Telecaster Neck+Bridge Bassman

00:16

Telecaster Neck+Bridge Showman

00:16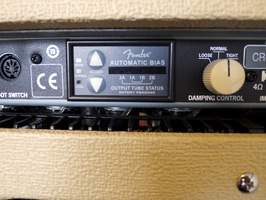 The lead channel we already knew from the 22-watt combo and we are still very impressed. In fact, the amp delivers a very good rock sound that will do a fair job in many situations. But the 100-watt head brings the concept even further thanks to the Notch Tune control that allows you to shape the tone and to get radically different sound characters. In the following samples we only changed the position of this magic control, using a Les Paul for rock and an Ibanez RG for metal. Hopefully now you understand the very important role played by this parameter! With the addition of this new feature, this already versatile and good-sounding amp is not far from perfect!
Les Paul Bridge Notch=1

00:22

Les Paul Bridge Notch=5

00:22

Les Paul Bridge Notch=10

00:22

Ibanez RG Bridge Notch=1

00:17

Ibanez RG Bridge Notch=5

00:17

Ibanez RG Bridge Notch=10

00:17
We had been seduced by the Super-Sonic 22, and are even more enthusiastic with this 100-watt amp head with its additional clean channel and a very practical Notch Tune control. We cannot really criticize anything except for the price (around $1,800 without speaker cabinet), which makes it an unreachable dream for many guitar players… But dreaming is nice!
Conclusion
There is no doubt that this amp will make many 6-string addicts green with envy after they read this review. This amp head is very close to being perfect: it provides a wide range of clean tones, it can deliver a good crunch sound and offers a very versatile lead channel thanks to its Notch Tune control. Add the spring reverb, the effect loop, the auto-bias facility, the damping control, the 25-watt mode, and the 4-button footswitch and you get a perfect amp… if you can afford it! In case you like Fender's clean tone (but not only) and have the money, don't hesitate and go for it!