When famous guitar amp developer Mike Soldano is leading a fully new brand of affordable tube amps it is hard not to pay attention. We tested the characterful and very affordable 20-watt amplifier head from Jet City.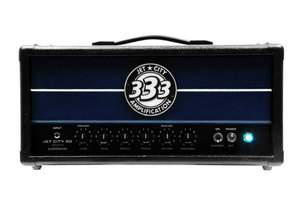 Compact tube amps are trendy right now. We've already had in our hands a large number of small combos with up to 5 watts of power, like the Fender Champion 600, and also compact, easy-to-use and affordable amplifier heads like the Orange Tiny Terror. Jet City plays in the latter category with its all-tube amps sold at prices terrorizing all competitors. Once you find out that Mike Soldano (from Soldano!), a guitar amplification guru since the 90's, stands behind Jet City, your mind is set at ease regarding the quality of the products. Moreover, Jet City's philosophy is simple: no bells and whistles, just the basics in order to offer high-quality gear conceived in Seattle and manufactured in China at a reasonable price. Actually, the 20-watt head on review here has a price tag of $330 and seems to have everything to seduce many guitar players…
Let's start by unpacking the beast!
Soldano on Sale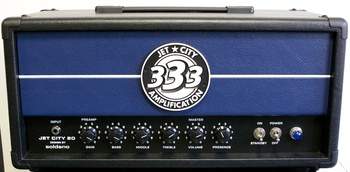 As soon as we saw the compact amp's controls, we were positively surprised by its blue and black design, typical of the brand. Instead of resorting to a backward-looking, vintage look, Jet City offers a straight, modern and tasteful amp. That's something we can't say about all amp manufacturers! The amp's serious construction is based around a multiple wood cabinet, a 16-gauge, cold-rolled steel chassis and a very nice vinyl covering. The plastic handle facilitates transportation of the 21.3 lbs, 9×9×19.5" head to your rehearsal room, a friend's place or Spain (or even Norway!).
Under the hood you'll find a preamp stage with three 12AX7 tubes and a power amp with a pair of EL84. Nothing but standard, tried and tested features: why change a winning team? The rectifier uses integrated circuitry, and the 20-watt power stage can match a 16 or 8 ohm speaker cabinet.
Now, let's take a look at the front panel controls.
Less Controls for a Stronger Sound
Although not as ascetic as the Tiny Terror, the small Jet City provides only basic controls including gain, 3-band EQ, presence, and master volume, all of them with a scale from 1 to 9. It, obviously, also has a guitar input as well as on/off and standby switches. We just miss a reverb section or an FX loop but we can forgive them, considering the price. On the back side, you'll find a grill to protect the tubes and allow heat dissipation, and three connectors for a pair of 8 ohm speakers or one single 16 ohm speaker. Jet City's product range includes three very affordable speaker cabinets equipped with Eminence speakers: 1×12, 2×12 (mono or stereo ) and 4×12 models. Do note that this head is also available as a combo with a 12" speaker. Jet City's catalog also includes 100 watt and 50 watt heads, as well as a budding 5 watt model called PicoValve… The manufacturer has also announced the JetStream ISO12USB, a special, closed-back speaker cabinet equipped with a USB connector that allows silent recording even when the amp is fully cranked up.
But let's go back to the JCA20H and pick up a guitar!
Bennie and the Jet City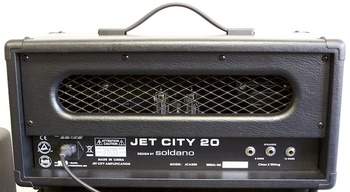 To test this small beast, we used a Gibson Les Paul Studio, a Gretsch G5129 with TV Jones Magna'Tron pickups and a Squier Telecaster Custom from the Classic Vibe Series. For the recording we used a Two Notes Torpedo with 4×12 impulses and a
Beyerdynamic M160
ribbon microphone.
We started with the Les Paul and quickly noticed that the small Jet City provides a pleasant crunch sound: the powerful bridge pickup of the guitar overdrives the amp as soon as the gain setting is at 2 and you hit the strings with force. The sound is very good, articulated and it reproduces every single nuance. Big, fat riffs are a breeze with the gain setting at 6 and higher settings will surely allow you to play lead parts without breaking a sweat. In spite of its nice character, the sound is definitely more rock than jazz. If you want a clean sound with a Les Paul you'll have to use low gain settings and increase the volume setting – it is doable and very convincing. The amp has only one single channel but is still quite versatile. The EQ works effectively and the presence control allows you to add high frequencies to get a more precise response. In short, this amp is amazing with a humbucker!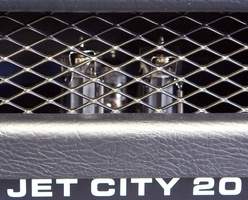 Playing the Telecaster, we immediately recognized the typical twang of the guitar. Distortion is not very intense and it doesn't crunch as quickly as the Les Paul, but that has more to do with the guitar. While the clean sound is not round enough but still usable, the crunch sound is stunning.
The Gretsch is a very special guitar because its humbucker pickups sound and twang like single-coils with the added factors of the body and resonance of the guitar. The clean sound is very good with the neck pickup and the crunch sound pretty sharp with the bridge pickup.
Below you can find the sound samples, including some made with the Squier Telecaster Classic Vibe which we also tested with the amp:
Les Paul – Micro manche – Gain = 1,5

00:22

Les Paul – Micro chevalet – Gain = 2,5

00:17

Les Paul – Micro chevalet – Gain = 6 – Med = 6,5

00:15

Les Paul – Micro chevalet – Gain = 8 – Mid = 3,5

00:16
Gretsch – Micro manche – Gain = 2,5

00:23

Gretsch – Micro manche – Gain = 5

00:18

Gretsch – Micro chevalet – Gain = 5

00:20

Gretsch – Micro chevalet – Gain = 8

00:17
Telecaster – Micro manche – Gain = 2

00:22

Telecaster – Micro chevalet – Gain = 6

00:17
Conclusion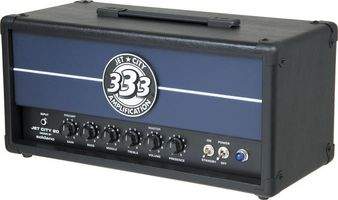 Jet City attacks – in the literal term of the word – the compact tube-amp market with a small, all-tube and characterful 20-watt head. The manufacturing and design quality are faultless, the Soldano-like sound is a delight and the price is just amazing. Add to that its brilliant and characteristic look and you get an amplifier head with moderate output power and no useless controls that, true, is somewhat limited (it has only one channel, no reverb or FX loop) but it can certainly do its thing pretty darn well. Finally, it has a rock spirit: plug and play and you've got the tone. For a first attempt, it's a real masterwork!