We have recently seen the birth of some tube amp heads for electric guitars sporting a reduced size and weight, such as the Vox Night Train. This amp head format allows guitarists to enjoy their sound without breaking their back lugging gear to and fro. So now it is Mesa Boogie's turn to launch its own portable version of a tube amp head, the Transatlantic. It's up to us to test all of this and see if Mesa Boogie has succeeded ...
Let's Unpack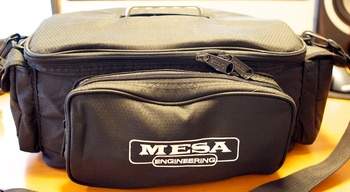 First thing we notice out of the box, the very small size of the machine: 12 3/8"W x 6 3/4"D x 5 7/8"H, weighing only 12 pounds.
A "carry on" is provided with the head, just to remind us that this is a transportable amp head format. There are pockets everywhere for storing goodies found at the bottom of the box:
A footswitch with a button (Channel ½)
An HP cable long enough (about 5 meters)
A conventional AC power outlet
The head has a retractable iron handle iron gives it a "Lunchbox" look. This is not the best example for ergonomics in action, but it deserves to be there (after 45 minutes in the crowded subway, my hands longed for a plastic handle). The Design and the buttons "gas cooker" style provide an unusual looking product, a bit out of time, vintage, but at the same time utilizing modern materials such lots of metals. Finishes are well cared for and we don't notice any defects, the "Made in USA" has its effect.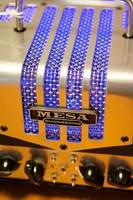 The highlight of the show is when the head is turned on: a blue light emanates from the bowels of the beast to dazzle the eyes. Question of taste, I think it looks a little Jacky-tuning, but this sensation disappears when the sound comes out of the speaker. We would have liked the option to disable the effect of "Neon 205 GTI"…oh well! Let's forget this episode in bad taste (which may be felt only by me) and move on to the bowels of the head.
The Mesa Boogie Transatlantic TA-15 is equipped with 4 preamp 12AX7 type tubes, and two EL84 type tubes for power amplification. Patented technology provides three power modes for the amp section, selectable via switches on the front. In the 5 Watts mode, the head is working on a Class A tube power, 15 Watts mode, two tubes are used in Class A mode Push-Pull, while in 25 watts mode 2 tubes operate in Class A / B power .
Now let's get to the settings …
Front and Back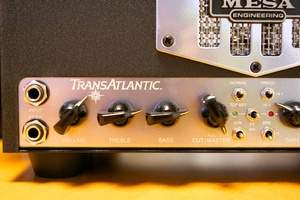 We find the classic guitar input jack for the footswitch just below. The amp has two independent channels at both the Masters level as the equalizer, but also in the amp section mode, a good point.
The first channel (left side) has a volume, equalizer, bass / treble and little Mesa taste of the exotic- a master coupled to a high cut filter (Cut). Through a system of push / pull, you move from one to another, which is quite annoying when trying the sound while playing on Master.
Just after this slightly annoying button, there is a switch to "Normal / Top Boost" which allows to pass from a clean sound with enough headroom to play loud and clear, to a more compressed and biting sound, which according to Mesa recalls a certain Vox amp. And below, we find what everyone is waiting for: the change of power at your fingertips. It has three positions that allow you to select three available modes: 5 Watts, 15 Watts or 25 Watts. Right in the middle, we find the small switch that allows us to choose between a manual mode for changing the channel or via a footswitch.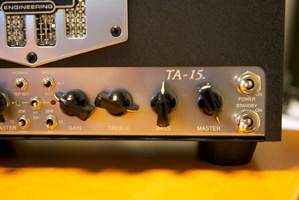 We come to the second channel of the beast that, unlike the first, has three different modes selectable by another switch: "Tweed" for a Fenderien sound, "Hi1" for a more British tone, and "Hi 2" (fat gain) that, according the manufacturer, is designed more for solos. The traditional buttons for Gain, EQ (Bass / Treble) Master follow, just before the big Power and Standby switches.
We can say that this facade of the front panel is a bit sparse, with few buttons, but they hold some interesting subtleties that give access to a wide range of sounds.
We spoke of a certain lack in the front, the back is no exception to the rule. We find an outlet, a ventilation grille, an indication of which tubes are used, two plugs for the 4 ohm and 8 ohm speakers and basta! No effects loop or line out.
We Plug In?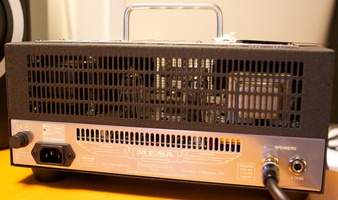 A horizontal Mesa Boogie 2X12 cabinet with 2 Celestion Vintage 30 and a Gibson Les Paul Custom 1978 were used to test the Transatlantic. The Samples were recorded at Studio UFO (located in Paris) on Protools HD3 with a Shure SM57 and a BeyerDynamic M160 (ribbon microphone) preamplified by Chandler Limited TG2. No compression or equalization were used.
Several takes were made with the three proposed powers, at different modes and at different volumes to have a good listen of the amp's sound palette. Listening to the samples, we see that it is possible to get a lot of different sounds, thanks to the mode switches of the amp section and the styles. Mode 25 Watts in Clean / Normal is a bit bright for my taste, but that feeling changes with the Top Boost mode engaged, which compresses the sound a lot. Metalheads in search of a big Mesa sound Rectifier style can go this route, the extreme sound point of this amp. Proof is with the Overdrive Channel Mode or Hi1 Hi2: bass becomes muddled and the sound becomes a bit mushy at very high gain.
In normal use, it is possible to push the amp gain and thus get a nice crunch without having to alert the neighbors (or have your sound man cry out, "you're too strong on stage! "). We can also have a very clear and strong enough sound to play in groups, although as I said above, the mode 25 Watt gives me the impression that a button "Bright" is engaged.
Further down the power amp via small switches, the sound is more compressed, as would be expected. It is certain that the buyer of this amp head will be very happy by the possibilities offered by the Transatlantic.
But enough blah blah, here are the audio samples with the settings used: T for Treble, B for Bass, V and M for Master Volume.
OD T3hB3h Hi1–25W-V3h M10

00:13

OD T3hB3h Hi1–25W-V11h M10

00:13

OD T3hB2h Hi1.-25W-V9h M11

00:19

OD T3hB3h Hi1–5W-V5h M12

00:13

OD T3hB3h Hi1–15W-V5.h M10

00:13

OD T3hB3h Hi1–15W-V11h M10

00:16

OD T3hB3h Hi2–15W-V3h M10

00:13

OD T3hB3h Hi2–25W-V3h M10

00:13

OD T3hB3h Hi2–5W-V5h M3h

00:13

OD T3hB3h Hi2–25W-V12h M10

00:16

OD T3hB3h Hi2–25W-V5h M10

00:13

OD T3hB2h TWeed-25W-V3h M2h

00:17

OD T3hB2h TWeed-25W-V3h M11

00:16

OD T3hB2h TWeed-15W-V3h M11

00:24

OD T3hB2h TWeed-25W-V5h M11

00:16

clean T2h -B2h Normal-15W -V10h

00:30

clean T2h -B2h Normal-5W -V15h

00:29

clean T2h -B2h Normal-5W -V14h

00:23

clean T2h -B2h Top Bo 25 W-V10h

00:30

clean T2h -B2h Normal 25 W-V11h

00:30

clean T2h -B2h TopBoo-15W -V10h

00:26

cleanT2h -B2hTop Boost-15W-V10h

00:29
Conclusion
It was a pleasure to test the Mesa Transatlantic amp head, once I passed the halo of blue neon light. We like the sound it delivers, rather vintage type, bluesy or rock, as one wishes. However, we lament the lack of extreme sounds with gain galore for playing a proper palm mute. With all the little options that the amp front panel and independent channels offer, we come to find a pleasant sound very easily. It can also be well used both during rehearsal, as well as in concert with 25 Watts and a footswitchable channel. In short, if it did not cost the modest sum of about $900, the average guitarist would be in heaven and it would have been easier to swallow this pill. Apart from that, the guitarists looking for a portable head with a distinctive sound, yet with many options, will be delighted!