Universal Audio introduced today a new update for its UAD Software for UAD-2 and Apollo audio interfaces.
UAD Software v7.5 adds Mac OS X 64-bit and Mavericks support, as well as Unison preamp modeling technology for the Apollo Twin and Duo/Quad audio interfaces (see this news for more information about Unison) as well as two new plug-ins.
The UA 610 models two legendary tube preamps and EQ: the vintage 610-A and modern 610-B. Users of the Apollo get the modern version for free and benefit from an upgrade to the full version for the special price of $149. Regular pricing of the plug-in is $299.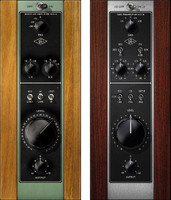 The Dangerous BAX EQ, developed by Brainworx, is the second new plug-in in the UAD Software v7.5. It is based on Peter Baxandall's legendary EQ from the 50s. Its price is $249.

Note that the Unison technology allows users of the Apollo Twin interfaces to change the physical impedance and gain stages of the built-in mic preamps with both the API Vision and UA 610 plug-ins.
More info about the v7.5 update and download at www.uaudio.com.
Be the first to post a comment about this news item
Viewers of this article also read...