IK Multimedia recently announced the release of AmpliTube Jimi Hendrix for iPhone/iPod touch, and AmpliTube Jimi Hendrix for iPad.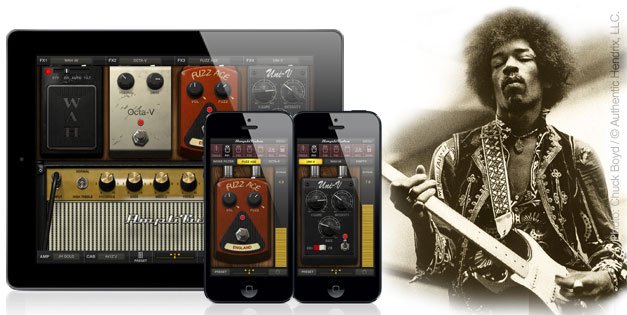 The AmpliTube Jimi Hendrix mobile Apps offer models of Hendrix's actual amps, cabinets and effects. The presets are arranged in discography format.
The Apps provide two amp models: JH Gold (based on Marshall JTM 45), "the" amp that Hendrix used almost exclusively from 1968 on, and JH Dual (based on a Fender Dual Showman), each with a matching cabinet.
Five effects are included: Uni-V (based on Univox Uni-Vibe), Octa-V (based on the Roger Mayer Octavia), Fuzz Age (based on the Arbiter Fuzz Face), Noise Filter (from AmpliTube), and Wah 46 (based on the Vox V846 wah, and free after registration).
In the Song Player window, users can purchase Hendrix songs such as "Hey Joe, " "Fire, " "Red House" and others to play along with. The Song player can also load songs from the user library, or via Wi-Fi and File Sharing; and it provides a Speed Trainer and a vocal-eliminator.
The Apps are equipped with a single-track recorder that can be expanded to 4 or 8 track self-contained studios with mixers and master effects, for the iPhone and iPad Apps respectively.
Pricing and Availability:
AmpliTube Jimi Hendrix for iPhone/iPod touch or iPad are available on the App StoreS for $14.99 / €13.99. Owners of AmpliTube can obtain the Hendrix models through In-App Purchase after updating to the latest version.
For more information, go to www.ikmultimedia.com/hendrix.
Be the first to post a comment about this news item
Viewers of this article also read...