Rhythmic Robot unveils a new virtual synth
It's teaser day, for after U-he and his Presswerk, Rhythmic Robot announces its Crank hybrid virtual synth.
Rhythmic Robot only posted a picture of the GUI for the new Crank "hybride electro-acoustic analogue synthesizer", on which we see two sections, each with an oscillators with multiple waveforms, amplitude with ADSR and pitch, ADSR filter, LFO with multiple waveforms, and Detune. The synth can operate either in mono or polyphonic mode and you can adjust voltage, spread and glide.
We are looking forward to hearing it soon…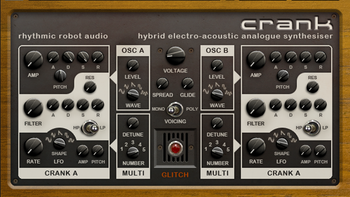 Viewers of this article also read...