Hot news
U-He announces Presswerk
It's not one but two new products U-He is working on: a synth and another plug-in called Presswerk.
After the synth announced a few days ago (see here), U-He posted last night a picture of the GUI of a new mysterious plug-in called Presswerk. The name suggests that there will be compression in it and the picture we reproduce below shows a drum processing section, sidechain and Mid/Side processing.
U-he should post more info in the next few days and says that a beta version will be available soon. What do you think?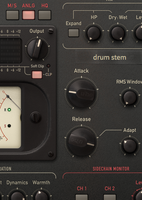 Viewers of this article also read...