Madrona Labs Aalto v1.3
The 1.3 release of Aalto, the patchable synthesizer from Madrona Labs, is now available.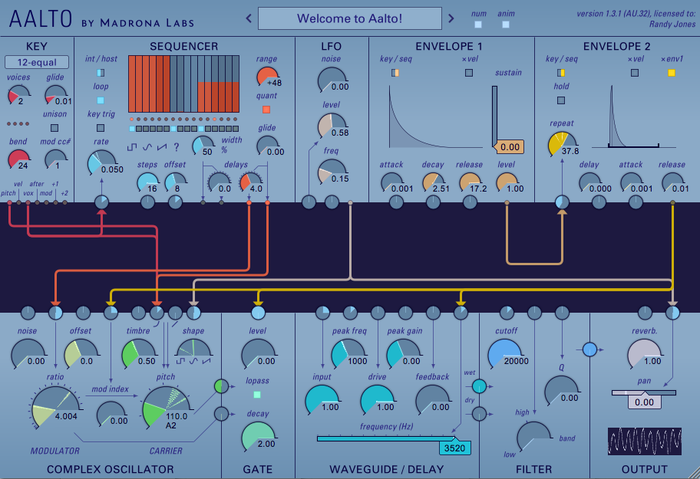 New features:
Redesigned, rewritten, vector-based, resizeable UI
DSP optimizations
Open Sound Control input for Soundplane / t3d format controllers
Fixed key stealing in Ableton Live
Fixed Fxpansion RTAS wrapper compatibility
Improved dial / mouse wheel ballistics
Fixed Logic noise burst bug of doom
Sync by ratios to host sequencer
Added MIDI program change automation
Store window location / num / anim prefs with saved data, not patch
Fix startup / shutdown issues affecting Max/MSP, Reaper
KEY: added two MIDI modulation outputs
KEY: rearranged knobs for Soundplane/t3d switch
SEQ: added random sequence button
SEQ: added steps signal input
SEQ: allow fine delay time changes in steps of 0.1
ENV: increased attack, decay ranges
ENV2: added delay, attack signal inputs
LFO: add level signal input
OSCILLATOR: fix linear pitch input range
Patcher: fixed sticky signal displays
Patcher: display bipolar signals as absolute
Aalto 1.3 is a free upgrade for licensed Aalto owners. If you already own a copy of Aalto, log in to your Madrona Labs account and click "My Downloads" to see the new links.
Pricing:
An Aalto license is $99 US and includes all future 1.x upgrades as well as Mac and Windows versions.
Check out Madrona Labs for more details.
Viewers of this article also read...