Symphobia Colours, Project SAM new Series
Project SAM expands its Symphobia concept with the new Colours Series, which first opus is going to make you smile.
With sound libraries smaller than Symphobia, but still for use in Kontakt, the Symphobia Colours Series is designed to complete to original orchestral library with new sounds and others already included in the Symphobia collection.
The first is this Series, Animator, focuses on "funny" orchestral sounds, and can be used in cartoons, animations, games and more. You'll find "laughing" clarinets, "sliding" trombones, jazzy staccatos or xylophone winks, along with other harp, bassoon, trumpet, violin, double bass, piano and percussion short sounds. A selection of samples from Lumina, the third Symphobia opus, is also included.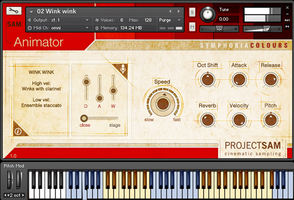 All the instruments were recorded in a concert hall with three microphone positions and the library offers ensembles with different combinations that are spread across the MIDI keyboard. You can also control in Kontakt the time stretch for most of the instruments.
Price: 175€ excl. taxes
You can listen to demos at www.projectsam.com.
Project SAM announces that the second library of this new Symphobia Colours Series, Orchestrator, will be released next week.
Viewers of this article also read...