String sections from John Williams or Hans Zimmer are pretty nice but they don't sound very rock 'n' roll. So we are very happy to welcome Native Instruments' Session Strings — a string section for Kontakt that is original in several aspects...
Strings, Strings, Strings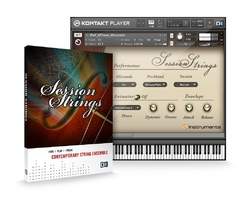 Sessions Strings includes two main banks of instruments sorted in different programs. You get a Modern bank with a rather linear sound and a Motown bank dedicated to the soul music of the 70's. Let's listen to the difference so that you actually know what we are talking about. In this legato sample, you'll hear alternately the Modern bank and then the same scale with the Motown bank over the full keyboard.
You'll quickly notice that higher notes have an unpleasant hiss that is easier to hear in the Motown instruments than in the Modern bank. The difference is not obvious in the lower octaves, but it becomes clearly audible in the mid and high frequencies, which is obvious with a combination of chords. In the following sound sample, you'll hear that the Motown bank has a more narrow frequency spectrum and sounds duller than the more airy and linear Modern bank. The grit is authentic so that the Motown bank is somewhere between the clean tone of Hollywood strings and the much more dirty, but also much more charming sound of a Mellotron…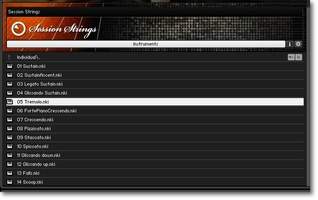 Most of the playing styles for stringed instruments are available thanks to the articulations provided in the Individual folders of the Modern and Motown banks: Sustain (two velocity layers), Sustain Accent (one velocity layer), Legato Sustain (three velocity layers), Glissando Sustain (three velocity layers), Tremolo (one velocity layer), FortePianoCrescendo (one velocity layer), Crescendo (one velocity layer), Pizzicato with Round Robin (two velocity layers), Staccato with Round Robin (two velocity layers), Spiccato with Round Robin (two velocity layers), Glissando Down to sustained note (two velocity layers), Glissando Up to sustained note (two velocity layers), Falls (fast glissando down, one velocity layer) and Scoop (fast glissando up, one velocity layer). In the following sample, you can hear the glissandi:
Always More sound
Session Strings' Animator allows for pretty authentic parts. This feature doesn't quite reach the level of specialized big names, but it is amazingly easy to create a string line considering the results: just hold a chord and you'll get something decent out of it. Still, an arpeggiator remains an arpeggiator: as you set the Groove control to 1/8 or 1/16 or you switch between octaves the result becomes unnatural, especially because there is no parameter that allows you to add timing imperfections to the notes in order to humanize the part.
To humanize the result, Native Instruments had the good idea of allowing the user to control the volume of arpeggio sequences, so that you can create nuances. Another good idea, this time for live performances, is the possibility to hold a sequence and play something else over it. In short, even if these features are limited, they are quite useful. Except…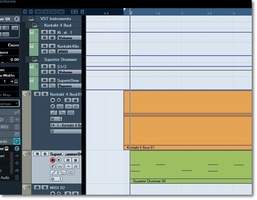 Except if you plan to use it in a song: you'll notice that the Animator, which is perfectly useful for live performances, is offset from the host sequencer's tempo when you try to play back a sequence you just recorded. This doesn't mean that it doesn't follow the tempo or that it doesn't play straight: the Animator is just delayed in relation to the project. I looked for information on NI's website. The manufacturer knows the problem exists but just doesn't seem to want to solve it: they recommend to offset the Session String track forward (my song was @ 120 BPM so I had to move my Activator part 1/32 note forward to sync the part with the drums).
Conclusion
Session Strings is not perfect, but it proposes something new regarding concept and design for a very aggressive price. In spite of the sync problem of the Animator (which is very easy to solve), it offers a fast and good way to work. And you can get very satisfying results without demanding too many resources (CPU and disk space) from your computer.
It would be ridiculous to think that it can compete with LASS, Vienna or Hollywood Strings, whose banks and scripts are much more sophisticated and comprehensive. It ought to be considered a complement for those programs whenever the user wants to make a draft of an arrangement without using complex programs. And more importantly, consider it as an opportunity to go out of the standard Hollywood/classic strings market segment. Add to this the arrangement facility provided by the Animator and you'll have to recognize that Session Strings currently has no competitor…
We would like to get more sequences in the Animator section, the possibility to edit them or a ready-to-use MIDI-file bank, like in virtual drums products, in order to avoid setting everything from scratch. But even without these features, and considering its price (€99), the program should easily find fans: from songwriters looking for a small convenient strings section to hip-hop and mainstream music producers who can have more flexibility working with loops without loosing authenticity.
Overall, Session Strings is a good product and we sincerely hope that Native instruments uses this instrument/arranger concept for more products…