Sometimes you need a couple of big speakers, but can't necessarily afford them. Don't panic! There are some speakers with an 8-inch woofer that can manage the low end quite decently without setting you back more than 700€ (about $800). We haven't tested all of them, but you probably have had (or have) the chance to listen to most of them.
Which are the best self-powered, 8-inch monitor speakers right now? – This is what we asked our French readers and below is what we got back, which, as usual, we decided to share with you: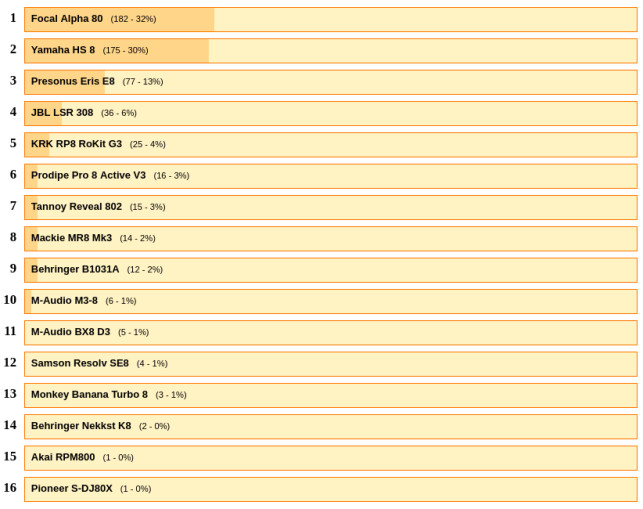 Focus' entry-level model, the Alpha 80, landed the first spot in the survey (although their price in US dollars is closer to $1000, since they are French made). The maker from St-Étienne really hit the nail on the head when it cut in half the price of its mid-range speakers without necessarily sacrificing their acoustic performance. This translated into a model with good frequency balance and a decent low end, not to mention a serious make and an automatic stand-by mode. The only bad thing about them is their look, if you want to be nit-picky.
Runner up is no other than Yamaha with the HS 8. These speakers take over where the much loved HS80M left off and sport the white woofer which has become a trademark of the brand (did you say NS-10?). It's no surprise then that their value for money is excellent, they feature a very good overall balance and a good presence that will certainly please more than one. We do regret the vanishing of the Mid EQ and the absence of an automatic stand-by mode, though.
Last on the podium was Presonus with the Eris E8, which have taken the world by surprise ever since they came out. Particularly considering that the company is not specialized in making monitor speakers, which didn't stop them from creating an almost flawless model. The Eris are an all-purpose model with lots of settings available featuring a pretty good balance and nice looks. The only thing they lack is an auto stand-by mode. An outsider that seems to feel pretty comfortable among the big shots.
The JBL LSR 3 missed the podium by one spot. Its tech specs are pretty standard, featuring a silk-dome tweeter and an 8-inch woofer, but they nevertheless seem to have seduced many AudioFanziners… maybe due to their Image Control waveguide, which, according to the brand, improves the perception of the stereo image.