Hot news
[AES] New Gibson LP monitors with Sunburst finish
See all news on the AES Convention 2014 »
Gibson introduced at AES 2014 a new series of Les Paul Tribute powered monitors, with three models sporting the look of the LP guitars.
The three new Gibson LP4, LP6 and LP8 are widely inspired by the brand's Les Paul guitars, with their flamed front-panel, Sunburst finish, front ports, cream "bindings" and Gibson backlit logo that reminds of some tailpieces on some guitar models.
The three monitors will be available in Tobacco Sunburst, Cherry Sunburst and Cherry finishes. The 4", 6" and 8" grille-protected woofers feature the Les Paul signature and employ carbon, just like the tweeters. All the versions are equipped with a bi-amplifier.
These new Gibson LP4, LP6 and LP8 will certainly be one of Gibson's hot products at NAMM, for they are expected in January 2015 for the celebration of Les Paul's 100th Anniversary.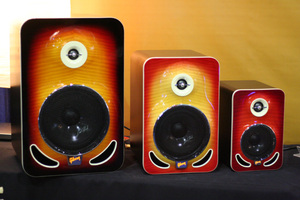 Viewers of this article also read...