Clock is ticking, and there is still time to please and be pleased. Here are some ideas for Christmas gifts for musicians and gear heads to fit all tastes and wallet sizes.
Computer Music
Line 6 MIDI Mobilizer : and your iThing speaks MIDI

Together with an Apple iPhone, iPad, or iPod touch, and the free MIDI Memo Recorder app, MIDI Mobilizer can play, record, and backup MIDI information any time, any place. Whether you want to capture a quick musical idea or back up the settings of all your MIDI gear, MIDI Mobilizer is a simple and compact solution for everything MIDI. Price: $70

Peavey AmpKit Link :

Turn your iPhone into a virtual amp for $30. The sound quality is fair considering the price. The marketing strategy of offering a free amp and then have us pay for additional amps is not so bad, considering that guitar players usually have their favorite amps and do not play with 15 different models.
Plugin Lexicon :

The new software package makes all the effects processing of Lexicon's PCM96 available as a plug-in designed to add "inspirational new sounds to a user's DAW that are not available anywhere else." The PC- and Macintosh-compatible PCM Native Effects Plug-In Bundle is designed to work with DAWs like Pro Tools and Logic, as well as with any other VST, Audio Unit or RTAS-compatible host. Price: $1200.
Apogee One : All in one in your pocket

ONE is described as a single input, stereo output USB music interface designed to work seamlessly with Apples iTunes, GarageBand, Logic, Final Cut or any Core Audio compliant application on a Mac. Unlike any product in its category, ONE features an internal reference condenser microphone, ideal for capturing inspired musical moments, according to Apogee. ONE also includes a microphone preamp, an instrument input for guitar, bass, and keyboards, and a studio-quality stereo output for headphones or powered monitors. Price: $249
Native Komplete 7 : The Bundle of the Decade?

The latest version of the Komplete bundle combines a range of NI products, while the Komplete 7 Elements collection is designed to set a new price point for music production enthusiasts on a budget. The seventh generation of Komplete now comprises 24 individual products, including the latest Reaktor 5.5 version as well as the new Reaktor Prism, Rammfire, Reflektor, Traktor's 12 and Vintage Organs. Other products now contained in Komplete include the Abbey Road 60s Drums vintage drum library, the performance effect The Finger, the electric pianos and an electric bass by sampler Thomas Scarbee, the four acoustic pianos from the Classic Piano Collection, the cinematic Acoustic Refractions instrument and the Reaktor Spark synthesizer, amounting to about 10,000 sounds and 90 GB of studio-grade sample material overall. Price: $559.
Guitar Pro 6 :

Version 6 is definitely a major update for Guitar Pro. What used to be a small software tool has become the ultimate reference in its category thanks to its intuitive user interface, well thought-out features and an absurdly low price. Should you upgrade your previous Guitar Pro version for $29.95? Yes, a thousand times yes! You'll benefit from a better design and a much better sounding and efficient audio engine than in previous versions. Should you buy the full version for $59.95 if you don't own a guitar tab editor? Yes, a thousand times yes!
Pro Tools 9 : Compatible Soundblaster (among others) !
Pro Tools 9 is an open platform that doesn't require an Avid/M-Audio interface anymore, but can work with or without any Core Audio or ASIO compatible interface – on Mac AND PC. The new version enables bigger mixes with more tracks, and pro features including Automatic Delay Compensation, multitrack Beat Detective, full Import Session Data dialog, DigiBase Pro, and other separately priced add-ons—now standard. Price: $599 for the full version.
Pianoteq Play :

Pianoteq Play is a virtual piano based on the physically modeled Pianoteq software instrument, appraised by many musicians for its close intimacy and responsiveness.
Modarrt says there is no need to tweak settings and parameters, as Pianoteq Play is delivered with "perfectly designed instruments." Pianoteq Play supports all Pianoteq instruments, and the grand pianos K1, C3, and M3 are embedded. Price: $99
RME Babyface :

RME succeeded in launching a compact and rugged interface with remarkable sound quality. At about $750, this baby provides two quality mic preamps and converters, ADAT in/out, a jog wheel, a transport bag, and a pair of nice-looking VU-meters. Add TotalMix FX —the virtual mixer that allows you to manage all 22 channels and process the signals (EQ, filter, reverb, and echo)— to the package and you get the best mobile audio interface on the market.
Akai APC 20 : Enter the Matrix

Yes, the APC40 is much more comprehensive than the APC20! But if you have only $200 for a Live controller, the APC20 has only one competitor in the form of the Novation Launchpad. The latter is less expensive but doesn't have any faders, which makes it less interesting…
Home Studio
Focal CMS 40 :

Focal introduces a very surprising compact speaker to extend their CMS range, whose previous models were very appealing. The CMS 40 is no exception with its irreproachable manufacturing quality, plentiful accessories and remarkably well-balanced sound. Considering its 4" woofer, the CMS 40 delivers a clear and dry low-end and very present and analytic mids. The high-frequency response is also good, just like the CMS 65 and CMS 50.
At $800/pair, this monitor speakers are highly recommended for mobile home studio owners or people working in a very small room who want to buy a well-built and faithful speaker pair.
Tannoy Reveal 601a :

Tannoy makes a strong come back by updating its down-market monitor speakers. The value for money (about $500 per pair) is very good. The speakers produce a well balanced sound with a good presence in the low end that doesn't disturb the rest of the frequency spectrum. The Reveal 601a seems to be a rugged monitor with serious manufacturing quality. Add a nice look and a high headroom and you get a very commendable and especially affordable pair of active monitor speakers.
ADAM A8X :

Upgrading the already very successful A series was no easy task for the German manufacturer. But once again, we have to acknowledge that ADAM AUDIO successfully took up the challenge with this A8X monitor — the flagship of the new AX series. It's true that the development of the new X-ART tweeter was the starting point of this evolution, but the improvements in the overall sound go way beyond the tweeter performance. The precision on the low-frequency range and the stereo imaging are important features that make this new series a success. Priced at $899.
SPL Transpressor :

The Transpressor is described as the first processor that combines level-independent compression and treatment of transients. What the Transient Designer does is shape the waveform according to the transient, and it only needs two controls to achieve that, either by amplifying or attenuating the attack and/or sustain. The compressor includes all standard parameters like Threshold, Ratio, Attack, Release, and Make-Up gain. Price: $1439.
Universal Audio 4–710D :

At the core of the 4–710D are four channels of "Twin-finity" mic preamps with true-bypass 1176-style compression. Based on the original 710 Twin-Finity preamp each of the four mic preamp channels is designed to allow for continuously variable tone between 100% tube and 100% solid-state. And all this for only $2000 …
Torpedo VM-202 : Mister Cab Driver
The VM-202 is a dual-processor guitar/bass cab simulator, designed to handle both analog (line balanced/unbalanced) and digital signals (S/PDIF, AES/EBU). You can plug in your bass/guitar pre amp, keyboard in the line/digital input and benefit from an exclusive tube stage simulator, along with the TORPEDO algorithm. You can play two cab + microphone simulations simultaneously and reproduce a multi microphone miking process. Price: $2650.
Instruments
Vigier G.V. Wood 90 :

Vigier offers a guitar with a modern look and a state-of-the-art design that distinguishes it from "mass-market" manufacturers. It's a combination of innovation and well-proven technology, like the P-90 pickups. Even if it's for a rather high — but justified — price ($3,600), you can get a top-notch guitar fully manufactured in France. Rock, jazz, blues, metal: you can play anything with this guitar! However, do try to play as best as you can because even the smallest imperfections are audible!
TC VoiceLive Touch :

TC-Helicon's VoiceLive Touch is described as a "go anywhere" vocal processor with vocal effects and "VLOOP", a performance vocal looper. Thanks to the integrated mic stand mount, VoiceLive Touch can sit precisely where it's needed for hands-on control – on the mic stand. Price: around $500.
Jet City JCA20H : Benny and the Jet…City
Jet City attacks the compact tube-amp market with a small, all-tube and characterful 20-watt head. The manufacturing and design quality are faultless, the Soldano-like sound is a delight and the price is just amazing. Add to that its brilliant and characteristic look and you get an amplifier head with moderate output power and no useless controls. Finally, it has a rock spirit: plug and play and you've got the tone. Price: $330
AKAI Miniak :

The Miniak is a very compact, rugged and clever instrument that produces vintage synth emulations as well as modern techno sounds. Compared with the Micron, the biggest change is only aesthetic. However, the Miniak does bring some improvements in the control layout, which enhances operation. The Miniak is a stage monster conceived to be transported all over the world to play live on stage. Price: about $369.
Dave Smith Tetra :

The Tetra is a powerful polyphonic, multitimbral analog synth. Its price is very reasonable ($750) considering that this compact unit hosts a real sound synthesis monster with only a few direct controls. If you consider the Tetra's outstanding sound quality and the lack of serious competitors, it ought to take you no time to understand that it is the perfect live instrument to complement digital synths and other cold-sounding workstations.
Yamaha Motif XF :

The Motif XF, is really impressive with its versatility and power. Motif XS owners who are thinking about upgrading will feel right at home because this new version is clearly an evolution rather than a revolution. Moreover, the newcomer still belongs to the "X" series. The new waveforms are a very valuable addition considering their quality. With the Motif XF, just switch on and relish: regardless of whether you are on stage or in the studio. Price: Starting at $2400.
TC Electronic Polytune : Six in One !
TC Electronic incredibly managed to launch a totally new product in the tuner pedal market, which is quite a feat. The polyphonic mode displaying all six strings at once saves guitar players lots of time on stage. The manufacturing quality is impeccable and the product is packed with clever ideas like the auto adjustment of LED intensity, the power output and the dual needle/caterpillar display in monophonic mode. Price: $100.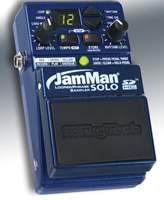 Jam Man Solo DigiTech : Jam Baby
The JamMan Solo is designed to store over 35 minutes of CD-quality loops in 99 memories internally as well as having a SD memory card expansion slot, giving the artist the ability to store up to 16 hours of material in an additional 99 memories with an optional memory card. Price: around $200.
Planet Waves NS Capo Tuner :

The NS Capo Tuner provides tuning at any fret or when clipped on the headstock or neck of your acoustic or electric guitar. The compound action of the Dual Action Capo is designed to reduce the force necessary to open and close the capo. It also eliminates side pulling the strings out of tune, a common issue with standard trigger-type capos. Price: $65
Pod HD :

Line 6 is back with a new pedalboard with (at last!) new models. The number of amp models decreased drastically (only 16 amps are available) but the sound quality improved as well. The effects from the M9 and M13 footboards are still very good in most cases, and the Pod's interface became a bit clearer. At $500, the Pod HD 500 is a good investment that will fulfill the needs of most buyers. Take a look also at the HD 400 and 300. They provide less effects and don't use the Dual Tone technology (two amps in parallel); the looper has less memory (24 seconds), and connections are not so comprehensive. However, their price is much lower ($330 and $400).
Tech 21 Oxford :

Tech21 continues its momentum by adding a new baby to the Character family. The Oxford comes with no surprises and it does everything you may expect from it. It sounds good in any configuration and will be the delight of guitar players who love "orange tasting" tones. The different settings are pretty effective and provide the stomp box with different sounding possibilities. The sound quality is flawless and every guitarist should have a SansAmp or a Character Series stomp box in his gig bag just in case… All-analog technology has still a bright future. Price: $150.
DJing and Live Sound

Traktor Kontrol S4 :

Combining an extended version of the existing Traktor Pro software with a dedicated hardware controller, the Traktor Kontrol S4 is aiming to provide an all-in-one solution for digital DJs. The controller comprises a four-channel mixer, an integrated 24-bit/96kHz audio interface based on NI's Audio 4 DJ, and interface sections for looping, cueing, track browsing and effects control. Price: $1000.
Hercules launched this year the newest version of their DJ Console line for Pro DJs, the DJ Console 4-Mx, a controller featuring large jog wheels (each equipped with touch sensor) a built-in audio interface tailored for DJing, and control over 2 and 4 virtual decks. The DJ Console 4-Mx has steel and aluminium crafted body with a variety of controls including 89 controls in 2-deck mode and 150 controls in 4-deck mode. Price: $450.
Pioneer DJM-2000 :

Let's be clear: this is a great piece of gear! Well thought-out, nicely finished and with a great sound, it offers countless possibilities to allow the most demanding DJ's to have endless fun. With this product, Pioneer targets night clubs with big budgets who want to offer the best to their DJ's. The latter will have the possibility to prepare their sets before performing, and to come to the club with only a CD or a USB key — no need for a computer. Price: $2500.
Denon DN-X1700 :

The DN-X1700 is a four-channel tabletop mixer with rubberised knobs, 60mm Alps K Series channel faders, 45mm FLEX cross fader, a color LCD display, extended 24-point LED channel and output metering, and LED ring metering around the control knobs. In operation, the principal features related to the power and flexibility of the DN-X1700 are its Matrix Input Assignment with digital input and MIDI/USB audio, independent and parametric three-band EQ with Kill on each channel, and dual independent EFX processors. Price: $1800.
The eight-channel Passport 500 PRO is the new top-of-the-line Passport system:
A port that lets you record your performance with CD quality (.wav) straight to a USB flash drive.
CD-quality .wav and mp3 file playback.
Sub-out jack for an external powered sub-woofer.
Redesigned speaker system with 10" woofer and improved clarity.
Price: $1000.
StudioLive 24.4.2 sports the same user interface, feature set, and I/O configuration as the StudioLive 16.4.2 but with several additions and enhancements. The main difference is that the new mixer provides 24 input channels and 10 aux buses, whereas the StudioLive 16.4.2 has 16 channels and 6 auxes. In addition, the new mixer's Fat Channel has fully parametric EQ, rather than semi-parametric, and the gate and limiter have been enhanced. Instead of one stereo 31-band graphic EQ on the main bus, you get four dual 31-band graphic EQs that can be assigned to the mains, subgroups, and aux buses. Price: $3,300.