We were spoiled at NAMM last January. While Musikmesse turned out to be a bit slower, we still found it to be quite interesting. Specifically, 15 products got our attention. So here's the list, in no particular order.
Roland caused a sensation this year with many products, including the JD-XA, a 49-key hybrid synthesizer that belongs to the same family as the JD-Xi introduced at the NAMM Show. And the icing on the cake is that we have a demo video.
As if one time weren't enough, Roland struck again with its Aira Series and the System-1m, which is a keyboard-less version of the System-1. This semi-modular shift excited many of you in the community and we even went to shoot a video at their booth:
The Babyface is dead ; Long live the Babyface Pro! RME's small USB interface is back in a powered-up version: no more breakout cable but new sturdy chassis and knob. According to the manufacturer, the Babyface Pro is not just an update, but a completely new audio interface with new preamps and converters.
British manufacturer Modal continue to impress synth fans, this time with a digitally-controlled 8-voice analog model. Manufacturing and design are still thorough and regarding the sound, we'll let you be the judge:
Two Notes likes to surprise us. This year is no exception with a new series of pedal preamps for guitar and bass.
Boss introduced a new guitar synth and multi-effect pedal with very low latency and analog-type polyphonic sounds, without the need of any sensor. Just plug your guitar jack!
Finally, a Marshall amp that doesn't look like a Marshall amp! This time, the Astoria series sports vintage look and design (all-valve and point-to-point hand wiring) that don't prevent the amps from having a few modern features, such as effect loop, tone switch or power attenuator. We can't wait to try them!
Zynaptiq strikes back with Unmix::Drums, a plug-in that allows, as its name says, for removing drum parts from a mix. Evidently, this opens new horizons to sampling fans. And the demo that we saw at Musikmesse was quite impressive!
PreSonus introduced its first USB 3.0 audio interface at Musikmesse, equipped with 26 inputs and 32 outputs. It features 8 digitally-controlled XMAX mic preamps and a condenser microphone for talkback. No information regarding the price.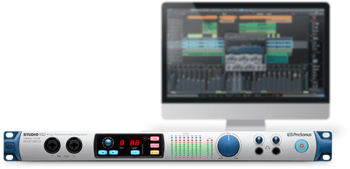 The missing link between the C414 and the C214? That's was AKG is launching with the C314, which even offers four polar patterns. If quality is as high as its big brother, this mic just might offer unbeatable value for money.
What could be better than a real tape to have a tape echo sound? That's probably what the T-Rex guys thought so they decided to launch the Replicator pedal, which includes no less than a magnetic tape in its cassette. Evidently, this has a price, which is $799 and it can't be battery powered.
Focal decided to design a three-way monitor that is more affordable than the SM9. The result is the Trio6 Be that includes the famous reverse dome Beryllium tweeter and a footswitchable Focus feature that allows for changing to 2-way setup. If it has the same quality as its siblings, many studios may soon be fit out with these monitors.
Rupert Neve and sE Electronics partner again to introduce a tube microphone. The RNT is a large diaphragm mic, offers multiple polar patterns and employs the same op-amps as the Neve 5088 console. For approximately $3,500, this mic will try to carve out a place among the greatest.
One of the main attractions of the show was the Universal Audio Apollo audio interface update, with new converters, a black finish, more monitoring buttons on the front panel and a Unison technology adapted to the instrument inputs.
Let's finish off this Best Of with Aodyo, a French company that debuted with a new wireless breath controller named Sylphyo. The compact device offers a 3-octave range, includes a touch slider for modulation and pitch bend, as well as an accelerometer for sound variations and a display.