The 2012 edition of Musikmesse at Frankfurt closed its doors on Saturday. The Audiofanzine team, has rounded up for you the top 10 products that made their mark at the show, in no particular order.
Bogner Pedals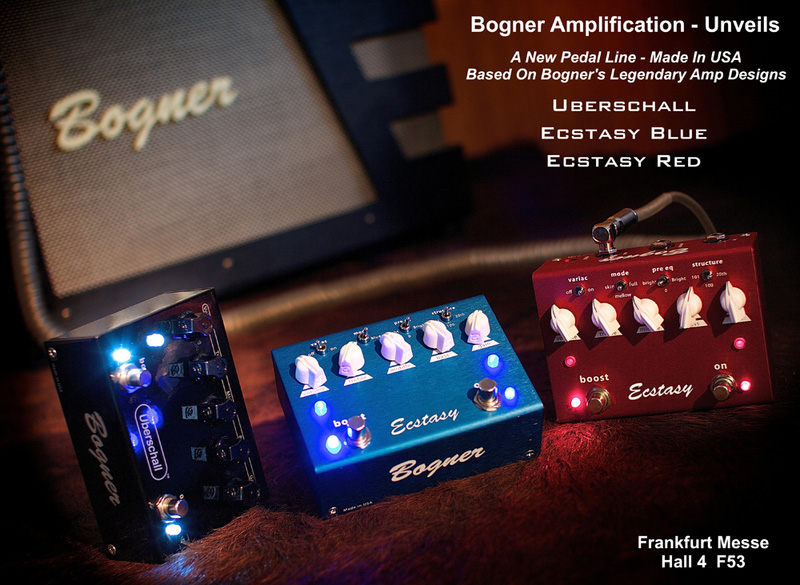 The names should speak for themselves: Uberschall, Ectasy Blue and Ecstasy Red. Lovers of the Bogner sound who could not afford the amps will now be able to enjoy it without going broke.
Jupiter 50
The new Roland Jupiter-50 combines the expression of the Jupiter-80 with the portability of the JUNO series. The Jupiter-50 houses the SuperNATURAL acoustic sounds found in the Jupiter-80 (with Behaviour Modelling) as well Jupiter-80's SuperNATURAL synthesizer tones and Live Sets. You can import the Jupiter-80's Live Sets and Synth Tones into the Jupiter-50 via USB memory key.
Without doubt the most impressive software of the show. Unveil is a real-time, de-mixing based plug-in designed to allow attenuating or boosting reverb components within a mixed signal of any channel count, including mono sources, as well as modifying contained reverb characteristics.
Rotodrum
The Italians at Rotodrum introduced their special drum kits at Musikmesse. The shells of Rotodrum drum kits are cut in half and height-adjustable to "change the spirit of the sound." This design lets you for instance turn shells into triggers, or test new mic setups for recording.
Seelake AudioStation
AudioStation is a Windows-based user-definable digital audio workstation. It features a mixer that embeds a VST/VSTi host with multiple slots per channel, independent MIDI routing engine per channel, independent Audio monitoring per channel, MIDI/WAV/MP3 player/recorder plus metronomic click. It can be controlled with the provided remote (and integral part of the device), and by an external MIDI controller. Price announced is 2500€.
Rupert Neve 5059 Satellite
Rupert Neve teased us before the show saying they will release a secret new product… Well, the 5059 analog mixer comes in a 2U, rack-mountable chassis. Each 5059 features 16 channels with individual level, pan, inserts, stereo-2 sends, and master texture controls, providing integration with outboard equipment, control for two separate stem mixes, and the ability to dial in analogue mojo in two modes.
The wait is over, Nuendo Live is here. The recording software is dedicated to live engineers, production houses and rental companies. Nuendo Live highlights a single-window user interface. Transport control, marker insertion, recording options — everything is designed to be accessed with one click. The Record Panel gives you an overview on all relevant parameters.
The 7kg Electro 4D sports a 61-key Semi Weighted Waterfall key bed and the drawbars found on the Nord C2D, as well as support for Sound Libraries. The Organ section features a new tone wheel engine derived from the Nord C2D. 
The Click-modeling has been improved and there's a new Rotary Speaker simulation with a new Drive.
The Alesis iO Mix 4 channel mixer is designed to turn your iPad into a portable studio, allowing you to record multiple mics or instruments into GarageBand or any other compatible Core Audio app. Four combo XLR-1/4" input channels are on the rear of the unit. Each has trim, channel gain, pan, and low & high EQ controls. Push-button High Pass Filters are also available on each channel.
Pioneer RMX 1000
The RMX-1000 incorporates four remixing functions: Isolate FX, Scene FX, X-Pad FX and Release FX. The device includes Pioneer's remixbox editing software to enable users to customize the functions and features of the unit. The system can also act as a USB controller when used with the included VST/AU RMX-1000 Plug-in software. Price announced is $999.