See all NAMM Show 2013 news items »
T-Rex Engineering will debut at NAMM 2013 the second version of its Sweeper chorus pedal for bass.
The Sweeper 2 bass chorus includes a new chorus algorithm designed to give a warmer and more vintage sound, T-Rex explains. The face of the pedal has also been modified in order to offer easier to read graphics.
You'll find the same Depth, Volume and Rate controls as on the first version of the pedal, and two outputs allow for stereo operation. The pedal requires a 9V power supply (T-Rex FuelTank).
The public price is set to $199. More details are available on t-rex-effects.com.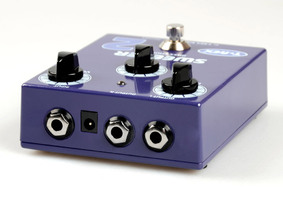 Be the first to post a comment about this news item
Viewers of this article also read...