See all NAMM Show 2013 news items »
On January 17, Rupert Neve Designs will be introducing two new 500 series modules, and you can enter to win one of them!
There are presently no information about these two new Rupert Neve Designs products that the manufacturer will bring to NAMM 2013, but you can already enter two win one of them.
All participants must become a fan on Facebook or a follower on Twitter and share or retweet each of the 5 photos Rupert Neve will publish on these media by the end of the day on January 24th. You will also need to fill out the form available on rupertneve.com/rndmystery/.
We'll list all the details about these new modules on thursday.
Good luck !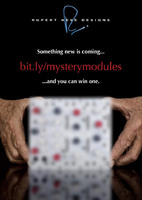 Be the first to post a comment about this news item
Viewers of this article also read...