Sony's ineradicable audio editor for PC (bought from Sonic Foundry in 2003 when its creators gave up against giants like Avid, Adobe and Apple) has just been ported to the Mac — 15 years later.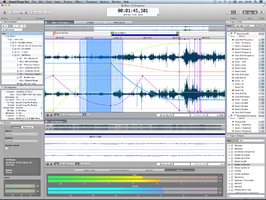 First of all, a public notice: Sound Forge Pro Mac 1.0 runs only in 64-bit mode. Thus Snow Leopard is a no go and you'll have to install OS X 10.7 or higher if you haven't already. Once Mountain Lion is installed (on an external hard-drive in our system), everything goes very fast. The user's manual is clear and explanatory, and you'll have to read it: although Sound Forge seems easy to use, it includes a lot of concepts that are quite practical but not that intuitive. But do note that the user's manual has only 90 pages, instead of the 382 the PC version does. The reason for that is that it lacks a lot of features of the latter… Here is a list of features you won't find in Sound Forge Pro Mac 1.0: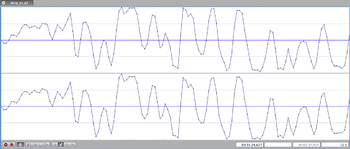 Auto Region, Acoustic Mirror convolution reverb, graphic fades, a spectral analyzer, spectrogram and phase-meter, SDS/SMDI to work with a sampler, video integration, a CD burning tool and Red Book norm, CD Architect 5.0 and Noise Reduction 2.0, batch processing, scripting, import and export of FLAC and other formats, undo/redo history, Loop Tuner, FM synthesis, Pitchbend, Trim/Crop, Pan/Expand, DC Offset, clip detection, FS2, GIG or DLS instrument processing, Snap to Zero while editing… The same applies to the shortcuts, there are only three pages of shortcuts from the ten pages the PC version has. The strategy is clear, Sony decided to make Sound Forge more simple and turn it into a Mac application: nice looking, smooth and only with the features you need… really?

Right from the beginning, Sound Forge has been a revolutionary tool in many aspects: it offered a convolution reverb long before the launch of Altiverb, Beat Detective-like features in the early 90's, cooperation with Acid to create loop banks, batch processing, import/export of many different audio formats, etc. But even though the PC version is still far from obsolescence, it's like a dinosaur in the audio world. That's why, waiting 10 years or more to launch an identical version was not an option for Sony — unfortunately.

Clearly, the Nippon giant chose to compete with the leading Mac software: they want to rebuild a modern, affordable and reliable platform offering all the basics and giving professional users the choice of their favorite FX and analyze plug-ins. And in that respect, the software is surely a great success. The sound is not in question, the precision and the reliability are there. All other things will depend on your skills and your plug-ins, but Sound Forge definitely has the capability to do everything Sony promises on their website.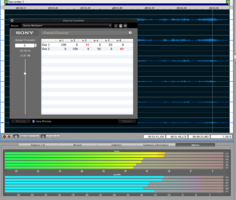 Yes, but what about FLAC, spectral analysis and CD creation and burning? You can live without them if you own the matching third-party software tools… Well, but what about Auto-Region? It will be more difficult, unless you're using this software for mastering only. And what about the lack of video support — especially considering that the product was most likely conceived for post-production? Why didn't they think bigger, for example with a partial integration of SpectraLayers, and especially of its spectrogram, in order to offer an audio editor that has no real competitor? And why don't they offer DDP or a metering system complying with the EBU R128 directive for audio/video products (which is applied almost everywhere in Europe), in order to take a step forward and differentiate the software from its competitors?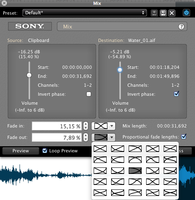 Due to the reasons exposed above, we have mixed feelings. For all of you who have never used Sound Forge Pro for PC, Sound Forge Pro for Mac is excellent news and will certainly be a good investment. Unfortunately, former or experienced users of Sony's editor most probably won't be satisfied with this version, which offers way less possibilities than the PC version… Features are missing and all changes are purely cosmetic. However, with Parallels Desktop installed on your Mac with Windows XP (sigh), you can still use the real Sound Forge, the one that can do everything and much more than the new one, with almost no crashes; but for more money… And in the meantime we will be patiently waiting for the next version, since Sony has everything to launch the best audio editor ever.