Almost exactly one year ago, I wrote a review about the Music Man Classic Stingray bass guitar. One year later, Sterling, another brand of the Ernie Ball group, presents the budget version. So my curiosity led me to review this instrument. A review that will be of interest to all of you who dream about buying a legend for half the price.
Mini-Review: A Snap Shot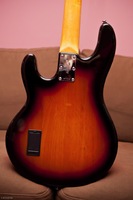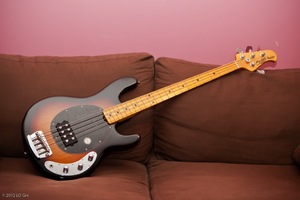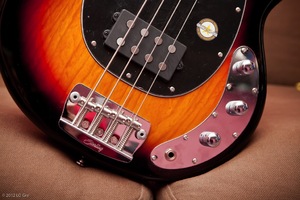 Music Man sound! Although I will never be a world-class musician like Gail Ann Dorsey, I took the liberty of playing a few notes on this Ray 34 CA (for "Classic Active"). Below, four sound samples played with the finger and with all bands turned 3/4 of the way up and then with slightly contoured mids. For the slap and pick parts, all controls were set to Max, which resulted in the recordings not really doing justice to the instrument because it was connected directly to the audio interface. With an amp, this setting works perfectly well. For direct recording, the high-frequency range is a bit too sharp.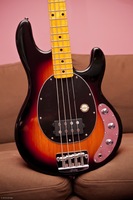 Conclusion
Personally, the Ray 34 CA impressed me. I had already tried out several OLP instruments before. They were cheaper, as was the sound. For €900, you can almost have the original Stingray tone at your finger tips. Simply amazing! Like the original bass guitar, the Ray 34 CA is a sturdy instrument with a sound that cuts through every imaginable mix — on stage as well as in the studio. When it comes to the playing feel, only your left hand will perceive a difference against the American legend: the thin neck is made for small hands. If you have large hands, give a try to the manufacturer's classic models. Although the body was not ergonomically shaped, the instrument felt very comfortable. I would have liked to try it out in the studio, to play it standing up and make sure it doesn't make my right forearm ache. But I didn't feel any pain in my arms or my back while doing the review. I recommend you to give it a try yourself and share your opinions with us.