A MIDI output for your Korg Volca
Amazing Machines offers Korg Volca users a mod that allows them to add a MIDI output to their synth and sampler.
Volcano comprises a small card and a MIDI connector that you'll solder to your Volca Beats, Volca Bass, Volca Keys and Volca Sample.
With the latter, for example, you'll be able to send Start/Stop commands, MIDI clock data and trigger from channels 1 to 10. Note that the firmware v1.3 of the Volca Sample does not allows for sending CC data but this feature may be added in a future update.
The kit is available for $48 excl. shipping fees at www.amazingmachines.com.br.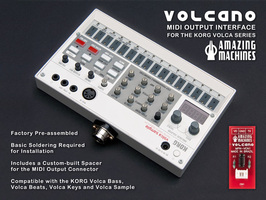 Viewers of this article also read...