The story of the Character Series started over two years ago when Tech21 decided to market five effect pedals that each one simulated a legendary amp. Their immediate success made the manufacturer launch three new models in 2010. We tested the Oxford, a stomp box that smells like orange peel...
Mini-Review: A Snap Shot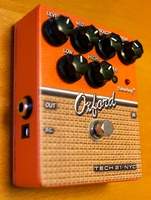 T21 Les Paul 1

00:16

T21 Les Paul 2

00:20

T21 Gretsch 1

00:30

T21 Gretsch 2

00:21

T21 Telecaster clair

00:29

T21 Telecaster crunch

00:26

T21 Telecaster crunch 2

00:29

T21 Telecaster sat 1

00:21

T21 Telecaster sat 2

00:25

T21 higain

00:10
Tech21 continues its momentum by adding a new baby to the Character family. The Oxford comes with no surprises and it does everything you may expect from it. It sounds good in any configuration and will be the delight of guitar players who love "orange tasting" tones. The different settings are pretty effective and provide the stomp box with different sounding possibilities. The sound quality is flawless and every guitarist should have a SansAmp or a Character Series stomp box in his gig bag just in case… All-analog technology has still a bright future.