sE Electronics are celebrating the launch of the new RF-X Reflexion Filter with the coordinated introduction of the X1 Studio Bundle.
The bundle ships as a single box and includes the RF-X itself, the sE X1 large diaphragm cardioid condenser microphone, the latest shock mount and pop filter kit (as sold with the 2200a mk II) and a 3 metre microphone cable.
The bundle is priced at €319 incl. VAT.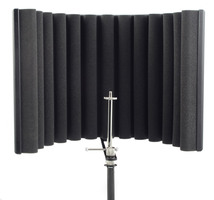 The RF-X uses the same design technology as the RF-Pro. It comes with a new lightweight body and re-designed clamp assembly. It features a four layer acoustic filter design comprising the outer composite panel itself, a wool fabric layer, an air gap layer and an inner acoustic foam layer.
The RF-X alone is priced at €115 incl. VAT.
For more details, check out www.seelectronics.com.
Be the first to post a comment about this news item
Viewers of this article also read...