Two years ago, Native Instruments introduced Maschine, a kind of hybrid MPC combining software and hardware technologies. The software is now in version 1.7 and the manufacturer has also introduced Maschine Mikro — a simpler but cheaper version.
Besides being a huge success, Maschine marked an evolution on the hardware and software levels. First of all, the reader should refer to the user reviews. You'll surely notice that some cons that we pointed out in our Maschine 1.0 review (in French) have been already fixed. But let's start with the hardware of Maschine Mikro and the applications for which it has been conceived.
Mikro But Powerful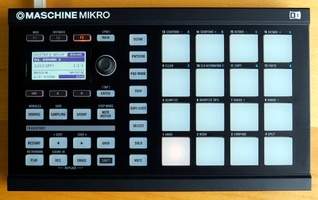 There is more than a family resemblance between Maschine and the Mikro version, but their dimensions are slightly different: the smaller brother is 12.6" x 7.7" x 2.2" big (against 12.6" x 11.6" × 2.4"). This means that the Mikro version is about 6" shorter, which is not bad considering a small desktop already fully packed with the computer keyboard, a MIDI keyboard, a mouse, controllers, etc. With a weight of 2.6 lbs (1.3 lb lighter than the "Makro" version), the Maschine Mikro is easily transportable in a backpack.
The first visible change is that the Mikro has only one display (instead of two) with a lower resolution (half as many pixels). Second major change: it has far less encoders! From the 11 encoders available on Maschine you get only one, placed above the display. The backlit switches are also decimated: you get only 28 from the 41 present on the original Maschine. Luckily, the number of pads is still the same (16) and the software is identical.
The transport console is almost the same (Loop is replaced by Restart) but there is no more direct access to the groups. With Maschine Mikro, you'll have to push a Group button and then one of the pads. Two steps instead of one; slightly less practical. Also note that you can select a group using a keyboard shortcut as well, which is the lesser evil.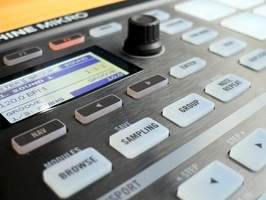 Generally speaking, it's more difficult to browse through effects, sounds, patterns, plug-ins, and projects using only the hardware, due to the smaller display and the single rotary encoder. As we expected, Maschine Mikro makes the user more dependent on his computer mouse, screen and keyboard… This is not necessarily an issue if you use your DAW at home with your sequencer, but it might become a problem for live musicians because they don't have the possibility of storing parameter automation data directly unto the hardware unit nor adjusting several values simultaneously. They'll have to use an additional MIDI controller, which is not the case with the original Maschine. The last hardware difference is that Maschine Mikro has no MIDI connections on 5-pin DIN connectors!
Advanced Software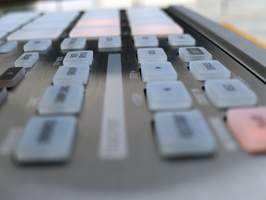 As we mentioned earlier, both Maschines use the same software and can load the same additional sound banks. At the time of writing, three sound banks are available: the new "True School" for hip-hop fans, "Vintage Heat" with analog sounds, and "Transistor Punch" providing modern and vintage synth/drum machine sounds.
The first major software update (1.5) brought with itself two new "Vintage sampler" modes (also available in Kontakt 5) emulating an MPC-60 and an SP-1200, mainly through sampling rate variations. This update also incorporated a drag and drop feature for MIDI export and MIDI CC support. The real-time sampling function was also improved and offers new mapping, destructive editing and cutting/clipping options. Version 1.6 fixed a major drawback and now supports third-party VST/AU plug-ins, besides including auto-mapping to allow the user to assign effect parameters to Maschine's controls automatically.
The latest version (1.7) allows the user to load VST/AU plug-in presets directly from Maschine's browser. This feature also applies to the Komplete 8 presets introduced at the same time. In fact, you can now browse Komplete 8 presets and load them directly from Maschine's interface. However, this is a bit more difficult with user presets. But all these new features are great considering all updates were free! And they solve many of the problems we addressed in our first review. A last remark: when you buy Maschine, you also get NI's Komplete Elements bank for free, which means 3GB of audio samples (1000 sounds), plus a $30 voucher for the purchase of any Native Instruments product. And last but not least: until December 31, 2011 people who buy Maschine will have the possibility to choose two sound banks from the three available (Maschine Mikro buyers only get one). Nice!
In Use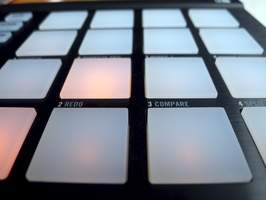 Maschine Mikro is a really sexy product that allows you to immediately feel the music and create your first grooves. All pads are very sensitive, feel nice under your fingers and have adjustable velocity curves (even if there was no need for us to tweak them). If you're used to working at home with your sequencer, like me, the hardware limitations of the Mikro version are insignificant. Most often than not you'll load sounds and make adjustments with the mouse of your computer directly within Maschine's software interface. Switching from hardware to software is a minor loss of time, but I prefer the software interface because it ts much more intuitive and adequate to the times we live in. Trying to control everything from the Maschine Mikro hardware feels like going 10 years back into the past.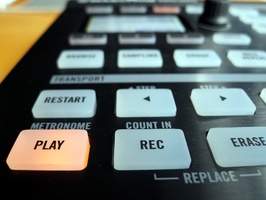 We also had the chance to try out the additional sound banks. They proved to be inspiring, well produced and quite comprehensive (40–50 kits per bank), which is pretty much considering the price. The sounds are sorted by instrument type and in sub-categories, making it very practical and user-friendly. However, the 6GB basic library included plus Komplete Element offer already more than enough to start working!
Conclusion
Maschine is back — smaller and more affordable ($349 instead of $599). The difference with its bigger brother concern mainly the hardware unit and the fact that it is more difficult to make music without putting your hands on your computer mouse and keyboard. In fact, Maschine Mikro is designed for musicians who work at home with a sequencer and want to use the hardware controller mainly for groove programming. In this case, Maschine Mikro fulfills its role very well because grabbing to your mouse is not an issue. If you want to use Maschine for live performances, real-time sound tweaking and parameter adjustment, and also if you want to control everything from the hardware unit, try the "complete" Maschine version, which thanks to the frequent software updates has become more and more powerful every time.