See all NAMM Show 2013 news items »
Marshall will launch in February a new Pin Up limited series, with one 5W valve head and three customized cabinets called Jane, Betty and Greta.
The Marshall Pin Up CSC5H is a 5W Class A guitar amplifier head that hosts two ECC83 preamp valves and one EL84 power valve. Controls include a volume and a three-band equalizer. One headphone output and two cab outputs for the Pin Up cabs, with 8 or 16 Ohm impedance are included.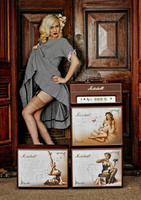 The Pin Up cabinets host one 10" Celestion G10F-15 16 Ohm spreaker and handle 15W.
The head and cabinets are covered with brown vinyl, with a golden front plate on the amp head. You can choose between three Greta, Jane and Betty Pin Up custom finishes on the cloth grill of the cabs.
The price of the stack is announced by Marshall at £799 / 890€. More details at the NAMM 2013 and soon on www.marshallamps.com.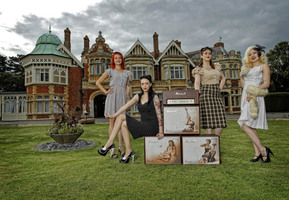 Posted on 01/26/2013 at 02:15:59

unfortunately not all musicians are sexist
Viewers of this article also read...