The invasion of smartphones and tablets has had a big impact on many different industries and the home-studio world is no exception. Many software and hardware products for iPhone and Android phones have been developed. Apogee, which has been married with Apple for several years, followed this trend by launching the JAM last year, an interface to connect your electric guitar directly to your iPhone/iPad. Now, the manufacturer comes back with the Mic, a condenser microphone for iOS and Mac.
There is a mic for this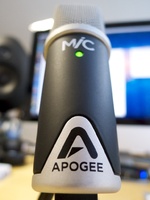 With the coming of recording software programs for smartphones and tablets, like Apple's Garage Band, it became crucial for Apogee to offer a microphone dedicated to these applications. So Apogee developed the Mic, a condenser microphone you can connect to your iMac (no PC support, as usual with Apogee) via a USB port, and to your iPhone/iPad via the Dock connector port. The first nice surprise is that both cables (USB and Dock) are included in the package! The Mic is provided with a small desktop tripod, which is not perfect (it could be a bit taller) but it exists!
As usual with Apogee, the metal construction is good and the look pleasant. The Mic is small and light but it gives the impression of sturdiness. The installation is very swift because the Mic is a real plug 'n' play unit: just plug it to your iThing, start Garage band (or another iApp) and you're ready to go! A small LED lights up as soon as the mic is ready to be used. The LED is also useful to adjust the input level: green = ok, red = overload. The small knob on the left side of the mic serves to adjust the gain (up to +40dB, according to the manufacturer), but having only two colors is a bit scarce to do it precisely. Moreover, Garage Band's meters have a pretty long reaction time — not the best match at all! But for demo recordings, it will do.
By the way, please note that the Mic doesn't support 3GS iPhones nor older models. It's a pity because Garage Band and many other DAW software products support these iPhones… And I personally own an iPhone 3GS…
Sound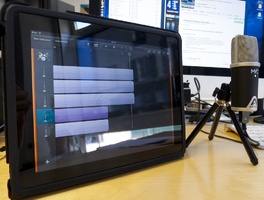 The Mic is a condenser microphone, so it tends to capture handling noise. That's why it's recommended to mount it on its stand and put the stand on a flat surface. You can also mount the Mic on a classic microphone stand, but you'll have to buy the optional "Mic Stand Adapter" ($10). Talking about accessories, it would've been nice to include the dedicated carry bag in the package, it looks great and seems very practical. But you'll have to pay an extra $20 (10% of the Mic price) to get it.
We tested the Mic on vocals and acoustic guitar, which are certainly the sound sources that will be most often captured by Mic users. With the guitar, the result was quite convincing: the low-frequency range is limited (the Mic has a small diaphragm), but this is not really a problem with such a sound source. The fact that the Mic has its own converter (whose technology is pompously called "PureDIGITAL" and works at 44.1/48kHz and 24bit) is surely one of the main reasons for the quality of the signal. The audio quality is way beyond what a mic connected to the iPhone/iPad analog input can offer. With the Mic, you can make demos and even record final takes.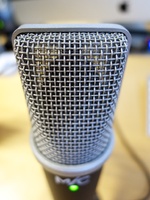 When it came to vocals, we had a "problem". We noticed that the Mic overemphasizes plosive sounds. This means either the singer has to stand off-axis or you'll have to add a wind screen. But the latter takes a lot of space in a bag and it is a bit unpractical for mobile solutions… Apart from this, the sound is very good, even better than enough to make demos.
Here is the song we recorded in Garage Band with the Mic connected to our iPad.
Conclusion
Apogee's Mic has a nice look and a good manufacturing quality. It's self-powered, plug 'n' play, small and easily transportable… Almost perfect! We like the fact that it is sold with a small desktop tripod and two USB and Dock cables for direct connection to a Mac or an iPhone/iPad. PC users and older iPhone (3GS and former) owners will have to find an alternative solution. Double-bass players will find the low-frequency response too limited, but singers and guitar players will be very satisfied. The Mic could have more LEDs to allow more precise level setting, and a wind screen is required if you want to get useful vocal recordings. With the Mic, Apogee offers a mobile solution that is a bit expensive but guarantees good audio quality. The ideal tool for singers and guitar players who want to record demos with their iThing.