Let's face it, unless you are actually in South Africa attending the World Cup and blowing your very own Vuvuzela, you can't stand the cacophony that's blaring out of your flat screen TV in the form of a thousand swarming mosquitoes. Luckily, a few plugins have been quickly developed to filter out that so so annoying buzzzzzzzz.
You can imagine my disbelief, Friday night watching the French game opening night of the FIFA World Cup 2010, out on the lawn, on a beautiful summer night, with 100 or so other fans, glaring at a big big screen, with a cool beer in my hand, when suddenly this annoying buzz started pervading my utopia, and never stopped. First I thought it was a technical error, on the broadcasting station side, or maybe even the projector/mixer that we managed to connect. Then I thought, as the night progressed, that maybe the beer is getting to my head and there is a swarm of locust about to descend on us like one of the 10 plagues of Egypt.
But no, I asked around, everyone shrugged their shoulders and said: "ah yes, it's the African plastic trumpet thing". What??!! Well, make them stop! How can we sit through a month of games with this horrible noise in the background. Sure if I was in the stadium myself, perhaps, a little tipsy, I would think this was the greatest invention to football games, and already start looking into starting a small import business from China. But I am not. What are we going to do? Well, luckily for us, we don't need to do anything. Several, enterprising gear manufacturers quickly cooked up some vuvuzela's noise reduction/filtering plugins, to make it all go away.
Let's take a look, eh?
Editor's Note
: At the time of this writing, the BBC is seriously considering broadcasting the games with Vuvuzelas filtered out, as it doesn't look like the actual vuvuzelas will be banned from the games. Fans are really panicking that this will distract their players from playing optimally. We've already seen some of vuvuzula casualties on the field. How else can you explain the Swiss over Spain or the Koreans scoring against Brazil?
Waves' Vuvuzella Killa
Working in conjunction with a major television broadcaster, Waves say they have crafted a preset processing chain which decreases Vuvuzela noise: The WNS Waves Noise Suppressor and the Q10 Paragraphic Equalizer. Together, they not only minimize Vuvuzela noise, they increase the intelligibility of the game announcers' play-by-play action and color commentary, Waves assures.
The processing chain for Vuvuzela noise reduction is now available as load-and-use sessions for Pro Tools, Waves MultiRack, and Cubase.
How Does it Work?
A combination of dynamic broadband noise suppression and notch filtering are utilized to create the Vuvuzela noise reduction processing chain. Routing schemes and parameter settings were adjusted, contrasted and, compared; multiple instances of each plugin, with different settings, were ultimately used to achieve optimal results, according to Waves.
Yet, the question I would like to pose to Waves is: With which major broadcaster have you managed to achieve these results?… so I can tune in!
Presoniq VuVux
Prosoniq announced its own Vuvuzela filtering plug in based on sonicWORX' audio de-mixing technology. This technology does not use a notch filter or parametric EQ to remove the noise, Prosoniq says. VuvuX is a free Apple AudioUnit plug in that suppresses the noise created by the Vuvuzela in realtime without affecting the audio commentary or the stadium atmosphere, according to the company.
http://www.sonicworx.com/sonicWORX/VuvuX_files/isolate-box.png
How does it work?
There are two ways to filter out the Vuvuzela noise, Prosoniq says: You can use a finely tuned notch filter or a parametric equalizer that zaps one or more of the frequency ranges that the Vuvuzela hum occupies. The problem with this is that the Vuvuzela hum fluctuates, and that the frequencies of the audio commentary overlap with the zapped frequencies. The process used in VuvuX has been developed to distinguish between voice, Vuvuzela hum and background noise by applying pattern detection and tracking.
Check out an original sample broadcast. And then the VuvuX filtered one.
PreSonus Voodoo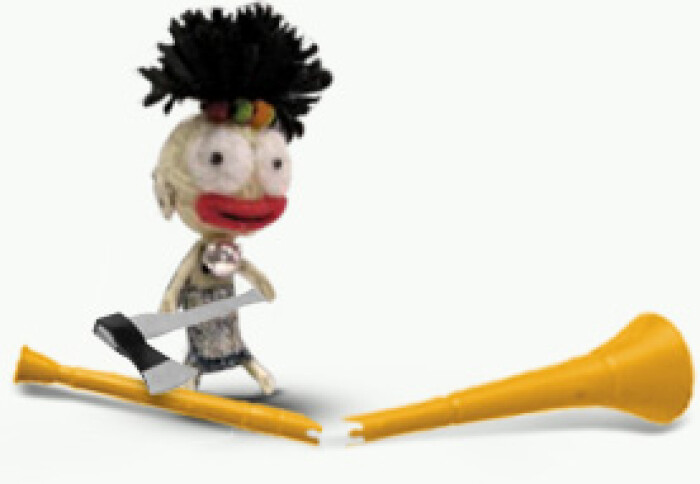 PreSonus has decided to use VooDoo against the Vuvuzela. PreSonus has come up with a special PreSonus Studio One file that filters out the din of the vuvuzela using the ProEQ plug-in. You can figure out what pitch the vuvuzelas play—PreSonus' tests show they are playing a Bb—and use the provided file with ProEQ to filter out the demented din.
How Does it Work?
Just connect your TV to your audio device and monitor the signal using the Voodoo-vs-Vuvuzela.song file (included in the download) and enjoy the game!
To know exactly how this works:
Use a tuner to find out which note the vuvuzelas play (They play B flat / A#)
Check the musical note frequency (Here´s a list)
Use an Equalizer (in this case the ProEQ) to filter out those frequencies.
---
Special thanks to
Axel Bührmann
from Johannesburg for his cover Vuvuzela photo.