Ion Audio has presented at CES the accessory kit Scratch 2 Go for DJs who want to mix with physical gear on iPad.
The Ion Audio Scratch 2 Go kit includes a crossfader, dos jogs and 6 control dials (2×3) which attach to the iPad screen via soft suction cups.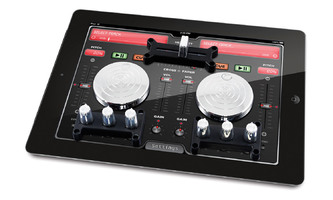 The kit works with the Ion Audio Scratch 2 Go App as well as with third-party DJ apps on Ipad (the list of compatible apps hasn't been specified).
Price and availability are to be announced. You can read the press release in PDF on www.ionaudio.com and discover the kit in action in the following video:
Be the first to post a comment about this news item
Viewers of this article also read...