Hot news
IK Multimedia T-Racks 4 + Custom Shop
IK Multimedia announces the release of T-RackS Custom Shop, the updated version 4.0 of its mixing and mastering suite for Mac and PC.
The new T-RackS CS offers five new analogue-modelled and digital processors, and it integrates the Custom Shop, IK's online gear shop, which allows users to purchase gear models à la carte from within the T-RackS software itself, and more.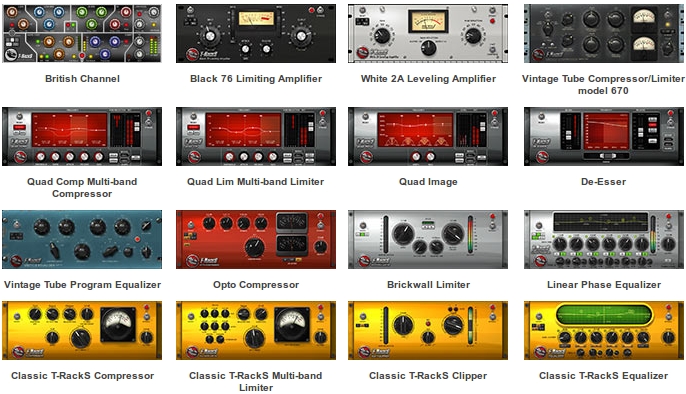 The new T-RackS CS includes five new processing modules. Four belong to the new Quad Series of multiband mastering processors, which includes a compressor, limiter, stereo imager and de-esser. Each Quad module is equipped with a set of filters and a solo function for auditioning individual bands.
The fifth new processor is British Channel, an analogue-modelled emulation of the channel strip. It offers four bands of EQ, high- and low-pass filters, a compressor and an independent gate/expander section.
Additionally, T-RackS CS now integrates all of the CSR Classik Studio Reverb processors: Hall, Room, Plate and Inverse, which have been updated to offer 64-bit precision when running from the T-RackS shell.
Besides offering more processors, T-RackS CS is also said to improve the sound of two of its compressors/limiters: White 2A and Black 76.
The new T-RackS CS now includes the IK Custom Shop, the integrated online tool that allows users to expand T-RackS with à la carte processors, try them before they buy them, and tailor their studio.

The online Custom Shop lets users browse the gear collection and make purchases with IK "Gear Credits", available in the Custom Shop. The "Try Before You Buy" feature allows for downloading a functional module for two days before deciding whether to purchase.

T-RackS CS is also available for free. The free version, T-RackS Custom Shop, includes two functional modules (classic EQ and metering). It can be downloaded for free from the IK User Area upon registration.
The included modules are the 6-band parametric T-RackS Classic Equalizer, and a metering suite comprising Peak, Perceived Loudness, Phase and RMS meters, and a Spectrum analyzer. Both the EQ and meters are available in the T-RackS shell, but also open as separate plug-ins. With these two included plug-ins as a starting point, users can add gear as they see fit via the Custom Shop.
Users can download the free T-RackS Custom Shop here: www.ikmultimedia.com/freedownload
New T-RackS CS Bundle Collections
In addition to the free version, T-RackS CS is now available in three distinct collections:
Classic - formerly T-RackS Standard, it includes the four original T-RackS processors: Classic Compressor, Classic Multi-band Limiter, Classic Clipper and Classic Equalizer, plus the metering suite.
Deluxe - includes everything in T-RackS CS Classic, plus Vintage Tube Compressor/Limiter Model 670, Vintage Tube Program Equalizer, Opto Compressor, Brickwall Limiter, and Linear Phase Equalizer.
Grand - includes everything in T-RackS CS Deluxe, plus seven additional processors: Quad Comp, Quad Limit, Quad Image, De-Esser, British Channel, Black 76 and White 2A. It provides the full collection of 16 T-RackS processors, featuring all the new modules released so far (not including CSR).

As usual, all new and previous T-RackS processors can be opened in three forms: as separate single processor plug-ins, as modules available inside the T-RackS plug-in shell - which allows up to 12 to be chained - or inside the T-RackS standalone mastering suite.
Pricing and Availability:
The T-RackS Custom Shop is available now in both the free and paid versions of T-RackS. Updated versions of T-RackS Classic (formerly Standard) and Deluxe, featuring the Custom Shop, are available as free updates for previous owners of those products.
T-RackS CS Grand is available for €319.99 (all prices ex VAT), T-RackS CS Deluxe is priced at €159.99 and T-RackS CS Classic at €59.99. All are available as digital downloads from IK's Online Store and the T-RackS Custom Shop.
Through January 7, 2013, a special 50%-off introductory upgrade price for T-RackS Grand is offered to users who've purchased any previous T-RackS Deluxe or Standard bundle, or single plug-in. These special upgrade prices start as low as €79.99 and go up to €119.99, depending on the version.
Credit Packs for purchasing à la carte models in the Custom Shop start as low as €15.99 for 20 credits, and go up incrementally to €399.99 for 1,000 credits. The cost for T-RackS processors inside the Custom Shop ranges from 40 to 120 Gear Credits each.
For more information, go to www.T-RackS.com.
Viewers of this article also read...