Noveltech Vocal Enhancer in native plugin version
Noveltech and Plugin Alliance announce the availability of the Vocal Enhancer plugin in native format for Mac OS X and Windows.
The Vocal Enhancer plugin has been available for TC Electronic PowerCore platforms. It can now be used in any DAW on Mac OS X and Windows, in VST, AU, RTAS, TDM Venue and AAX/DSP formats.
The plugin uses the patented IAF (Intelligent Adaptive Filtering) technology that enhances the relevant characteristics found in the source, by automatically adjusting complex sets of parameters. The specific algorithm involved constantly adapts itself to the sound source.
Two Focus Frequency and Enhancement settings and a two-band filter are available for fine tuning the enhancement.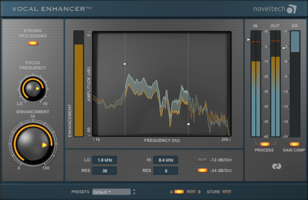 Features:
Input Gain: cuts/boosts the input signal from -60 to +10dB
Output Gain: cuts/boosts the output signal from -60 to +10dB
Enhancement: Amount of enhancement signal being added to the boosted input signal (0 to 100%)
Target: from 0 to 100, represents the relative position in the full frequency range of the input signal at the current time instant
Strong: Toggles between standard (off) and strong (on) processing modes
Low/High Filter borders: these lines may be moved to narrow or widen the frequency range of the processed part of the signal
Resonance triangle: may be moved vertically to increase or decrease the resonance Q-value of the filters
Lo-Hi: Displays the set frequency from 1.0 kHz to 20 kHz
Res: Displays the set resonance Q-value from 0 to 99
12 or 24dB/octave switch
Enhancement, input, output and reduction meters
FFT display, showing the amount of processing over the frequency range from 1 kHz to 20 kHz in real time
Automatic gain compensation
Presets included
The Vocal Enhancer retails at $199. Users of the TC Electronic PowerCore version are offered a 50% off list price crossgrade deal for a limited time and we'll pay $99. More information at plugin-alliance.com.
Viewers of this article also read...