Prism is a polyphonic synthesizer included with the new products launched by Native Instruments in the Komplete 7 pack. Based on modeling technology... Let's find out what that means.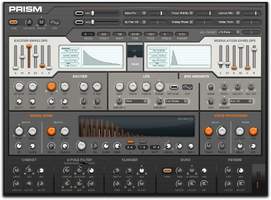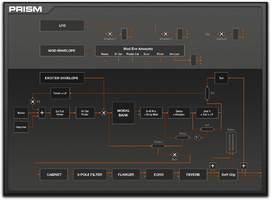 I'm So Exciter
The exciter allows you to generate a (rotating) impulse and/or noise. Listen to the result (impulse, noise, both):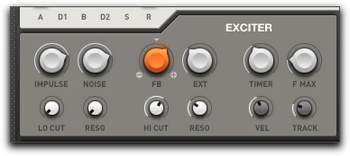 The first sound sample is the basic sound. The exciter provides two resonant filters, a feedback control, and an external control adding the effect signal. Below, you can hear an impulse plus cabinet and 8-pole filter, then the effect of the FB (feedback) parameter and finally the result when adding the EXT (external) parameter.
Modal Bank

The following sound sample is based on our default sound. We added noise and feedback. Then we fully opened the cutoff (inactive).

Same basic sound with high-pass filter in default position, then set to 1 (be careful: the level changes abruptly in the middle of the sample).

Prism: A Mini-Review
As we summarize I invite you to listen to some typical sound samples of the Prism. You can hear sounds from different categories: bass, bells, keys & mallets, leads, pads, plucked, and soundscapes.
05-latelybass

00:16

06-chimelion

00:32

07-polynesian

00:31

08-morphicresonance

00:37

09-ethnicflute

00:15

10-pads

01:21

11-chinesezither

00:31

12-soundscapes

01:27
The synth gives excellent results for bell, percussive, metallic, wooden, and stringed instruments. I must admit that I liked especially the tonal percussions that don't have excessive brilliance, i.e. wooden percussions or instruments made out of materials that don't resonate to much. However, I found a lot of sound colors that are typical for FM synthesis, which I could create very easily with my SY99, without having to use the attack samples, or even with an FM7/FM8. I don't include the DX7 because effects can play a crucial role in sound design.
Almost paradoxically, Prism is also very powerful at creating "unreal" ambiance sounds because it confers them a real-life touch, even though I expected pure abstract tones. Obviously, the synthesis requires a learning curve and the creation process is not the same as with an analog or virtual analog instrument: this synth is intellectual rather than intuitive. However, experimentation is not forbidden, quite the contrary. When compared with the concurrence, Prism places itself in middle of it all: it is not comparable with a Tassman, which is quite logical considering that the Prism isn't aiming at the same market segment. On the other hand, compared with Structure and its rather abstruse and absolutely unfriendly user interface (its advantage is that it is included with Logic…), Prism is much more simple and well-rounded.
But it has a big con: it's almost impossible to use this synth for live applications or to control program changes from a sequencer because switching between presets generates lots of sound artifacts: echoes continue sounding without a consistent pitch, noises of all sorts. It's a pity… However, this kind of sound synthesis has a very special sound signature: if you want rich pads, twangy brasses and percussive basses, you should look for another tool. On the other hand, if you are looking for percussive, bright, metallic or even cold sounds, or for a tool that makes you rethink sound synthesis, Prism will certainly win its place among your favs. Its price is an additional advantage, as well as the availability of a free Reaktor Player.