Promo BF
[BKFR] -20% off EM-Drive overdrive pedal
See all Black Friday 2013 news items »
Some hardware manufacturers are also running sales for Black Friday, including Emerson who offers a 20% discount off their EM-Drive.
The offer is valid until December 2nd at midnight and applies to both Classic Turquoise and Candy Green Metallic limited edition finishes.
During this special weekend, the EM-Drive is available for $127.99 instead of $159.99 (plus shipping fees) with the coupon code blackfriday at emersoncustomguitars.bigcartel.com.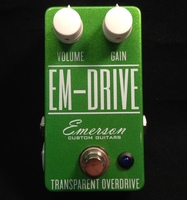 Viewers of this article also read...