IK Multimedia announces the release of AmpliTube 2.7, a new version of the guitar-and-bass multi-effects and recording app for iOS.
The new version features a new user interface that's been optimized for the 4-inch display on iPhone 5 and the new iPod touch.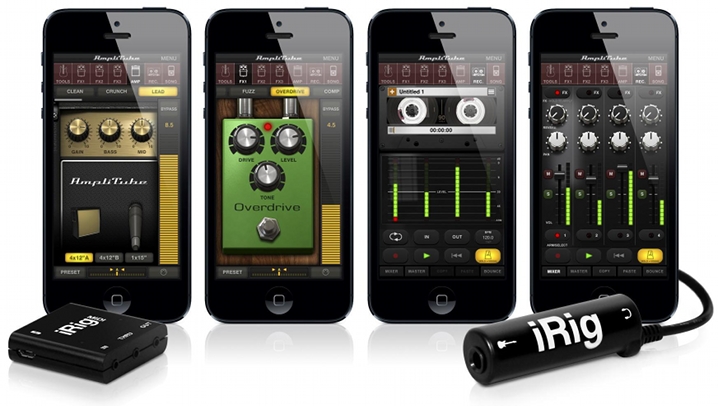 The app comes with 24 gear models, including 5 amps, 5 cabinets, 2 mics and 11 stompboxes. It lets the user set up a signal chain containing an amp, cabinet and mic, along with three simultaneous stompboxes. AmpliTube's gear lineup can be expanded via in-app purchase with dozens of additional components including officially certified models of Slash's amps, and emulations of gear from brands such as Fender, Soldano, Ampeg, T-Rex and others.
Guitarists and bassists can connect their instruments to their iPhone, iPad or iPod touch, using IK's iRig interface, or the new iRig Stomp; which is a stompbox style interface for iPhone, iPad and iPod touch. It can be plugged inline with a pedalboard, or into an amp or PA system for live performances.
Pricing & Availability:
Version 2.7 is a free update for previous owners of all three levels of the app: AmpliTube, AmpliTube LE, and AmpliTube Free.
For new users, AmpliTube 2.7 is available for $19.99/€17.99 from the App Store on iPhone and iPod touch, or at www.itunes.com/appstore. AmpliTube LE is a less-expensive version with 10 gear models, and sells for $2.99/€2.69. AmpliTube Free includes 8 gear models. iPad versions of AmpliTube are available, as well.
For more information, go to www.ikmultimedia.com/amplitubeiphone.
Be the first to post a comment about this news item
Viewers of this article also read...