IK Multimedia was one of the pioneers in guitar amp simulation software with their famous Amplitube launched in 2002. The Italian company comes back eight years later with the third version of their flagship product. And what's new you ask?
Amp simulation software manufacturers have been fighting their battle over the last eight years offering more models, new GUIs, new algorithms, and new functionalities. The advantages of amp simulation software are plenty (direct recording, reamping, huge sound possibilities, etc.) and a lot of guitar players and home studio owners already have one of them or are seriously think about getting one. So, what are the advantages of this new Amplitube over its competitors? We'll try to answer that question in this detailed review…
No Need to Go Out Anymore
The first good news (specially for lazy people) is that the full software can be downloaded from the IK Multimedia website so you don't need to go out to start playing with your new toy right away. You'll have to pay $349.99, which seems a bit expensive compared to similar products available for under $300 (Guitar Rig 4, Revalver). This fact makes Amplitube 3 start out on the wrong foot, but maybe its sound justifies the price difference…
Once you download the product, the installation under Mac and Windows goes very smoothly and the GUI is displayed after only a few seconds. The first step is the software configuration: set up the audio and MIDI interface you want to use and the buffer size, which will have a direct influence on Amplitube's latency. With a small buffer size (256 samples or less) the latency, i.e. the time gap between the moment the signal goes into your sound card and the moment you actually hear it through your monitor speakers, will be pretty low or even imperceptible. However, your computer will have to stand a very high processing load and some artifacts might appear if it doesn't have enough CPU power. You'll have to find the right setting depending on your system. Once the configuration is made, you are ready to concentrate on the GUI…
A Look Through the Window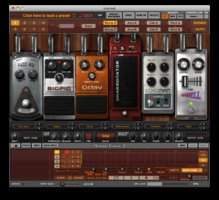 The GUI of Amplitube 3 is divided into five sections: the area on the top allows you to directly load presets sorted by amp or style (clean, crunch, extreme, etc.) or to activate the preset browser that provides a short description and indicates the sound character and instrument. Do notice that the preset browser not only monitors the preset names but also their description and sound character. Thus it is very easy to filter all jazz or metal sounds… A nice feature to quickly find presets that might be useful for your particular needs. Of course, you can also save your own presets and delete them later. Also notice the X-Change feature that allows you to share your presets with the rest of the world — you might even find interesting sounds, who knows!
The software works with three quality modes: hi, mid and eco (from most to least demanding in terms of processing power). This will allow you to reduce the system's load if you use a lot of effects at the same time. The audio quality is slightly reduced with the mid and eco modes, but not dramatically so the software remains useful. To help you make yourself an idea, a preset requiring 25% CPU load in hi mode will require 19% in mid mode and only 11% in eco mode. This can be a big advantage if your system is not very powerful or if you work with several instances of the software simultaneously.
Finally, you can also select here an IK Multimedia StompIO ($900) or StealthPedal ($200) controller — if you are among their lucky owners.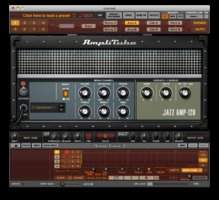 Right underneath you'll find the section for signal path selection. You can choose among eight paths going through two pedalboards, two amps, two speaker cabinets, and two effect racks. For example, you can chain two pedalboards in series, route them to an amp head feeding two different speaker cabinets and passing through two effect racks. This system is probably not as intuitive and comprehensive as Guitar Rig where you can drag & drop any module wherever you want, but it will certainly fulfill the needs of most guitar players and it has the advantage of preventing the user from making mistakes (for instance, inserting a fuzz effect at the end of the chain!). Moreover, you can use two fully independent paths to enjoy Amplitube 3 with two guitars. In this case, each instrument has its own pedalboard, amp, speaker cabinet, and effects rack. A very good point!
Simply click one of the elements on the signal path to display it in the main section of the GUI…
Stompboxes, Amps, Speakers, and Effects
This is the heart of the software, where you'll find the four main elements in the sound of a guitar player: stompboxes, amps, speaker cabinets, and rack effects. You'll also notice that there is a rather accurate tuner which can either mute the signal or let it pass, and whose reference frequency can be set from 425 to 455 Hz.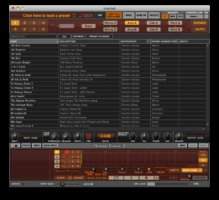 Let's start with the two pedalboards that allow you to connect up to 12 stompboxes from the 51 available (the full list is available here) into your rig. All stompboxes are sorted in nine categories: Delay, Distortion, Dynamics, EQ, Filter, Fuzz, Modulation, Pitch, and Other. Most famous brands are featured: Electro-Harmonix, Ibanez, Marshall, and many more. The manufacturer list is long enough and it includes everything to satisfy most guitar players. Once you select the stompboxes, you can drag & drop them in the virtual pedalboard to change their position — a feature we had been waiting for quite some time (it was not included in the previous versions). In fact, the position of the stompboxes within the effect chain is crucial, because two setups with the exact same stompboxes can produce very different results! Just try it out! You can also switch each stompbox on and off with a single click. Notice that each pot can be freely assigned to any MIDI controller using the very convenient MIDI Learn function.
When it comes to amps, you get 31 models (the full list is available here) sorted in four categories (Clean, Crunch, Lead, and Bass), and they offer an interesting feature: the preamp stages, EQs and power amps are fully independent (for some models). This means you have the possibility to combine the preamp stage of a Fender Bassman with the EQ of a Marshall Plexi and the power amp of a Vox AC 30! This extends the sound possibilities enormously and sound adventurers who like to turn knobs for hours will be crying with joy. For purists and people who don't like to experiment, a Match button allows you to automatically select the EQ and the power amp that correspond to a specific preamp. That way, when you select a Marshall preamp, you can be sure you use the matching EQ and power amp. The model list provides indispensable amps from Marshall, Fender, Vox, Orange, Mesa Boogie, but also custom amps from IK Multimedia. In short, it's enough to satisfy all guitar players. Each model features its own GUI and settings so that you immediately know what it is all about!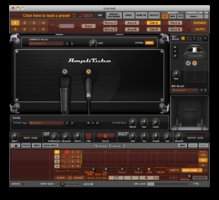 As for speaker cabinets, IK Multimedia provides 46 models from the most classic — the standard 4×12" — to the most original, like a Leslie speaker (the full list is available
here
)! All models are sorted depending on the speaker diameter: from 6" to 15" for guitarists and 10" to 15" for bass players. Moreover, you can fine tune the speaker cabinet size using a "size" control.
Amplitube 3 also provides 15 mics, including dynamic, condenser and ribbon mics (the full list is available here). You can place two mics in front of the virtual speaker, mix them freely, move them closer or farther from the speaker, and move the axis from the speaker center. You can also select one of five live rooms (from a closet to a hall) and the "width" control allows you to adjust the space between both room mics (two U47 or so it seems).
Last but not least, you get 17 rack effects that, unlike the stompboxes, are placed after the amplifier stage on the signal path. They include delays, reverbs, EQs, compressors, modulation effects, pitch effects (with a harmonizer among them), a swell (auto-volume), and a step slicer.
In the module window, you'll find an input level setting, a noise gate with three controls (threshold, release and depth), a second compact display for the tuner, and an output level knob. Depending on the selected modules, you can also set their volume (stompboxes and amps), pan, and phase (speakers).
By now, you have probably already guessed the huge sound possibilities Amplitube 3 offers.
Let us now focus on one of the main new features of this third version: the 4-track recorder!
Integrated 4-Track Recorder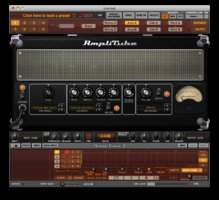 Amplitube 3 includes a 4-track recorder allowing you to record your ideas directly into the software. The recorder is at the bottom of the GUI and it is divided into two areas: on the left you have the library listing the recorded and imported files (the 4-track recorder supports wav, aiff, sd2, apple caf, flac, and mp3 files), and on the right you have the sequencer. Each of the four tracks is equipped with an input selector (input 1, 2 or both in stereo), mute and solo functions, and a record-ready button. Four faders give you control of the tempo (which is very convenient to learn and practice), pitch, pan, and volume of the selected track. You can change the overall playback speed (0.5x, 1x and 2x) using three knobs on the right.
The metronome provides five different tones, adjustable tempo (from 60 to 240 BPM) and many time signatures. The essential playback, rec and loop buttons are also included.
You can insert a fully independent Amplitube instance in each track. In other words, you can record four guitar tracks with four different sounds and edit the settings later. This will certainly increase the CPU load and that's why IK Multimedia added a freeze function — like in "real sequencers" — that allows you to freeze the settings and the sound of the track so that the load on your system is reduced. Finally, you can export your masterworks as wav, aiff and sd2 files.
In practice, this small sequencer proved really convenient and very comprehensive. It provides everything you need to make quick demos without launching your DAW: a very good point for Amplitube 3.
OK, now it's time to plug in the guitars!
What About the Sound?
We tested the software with two guitars: a Fender Telecaster American Special and a Gibson Les Paul Studio.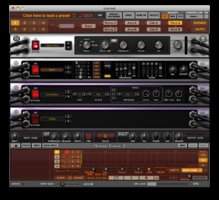 The clean sound is pretty good, especially with the American Clean mkIII and American Vintage modelings, which are quite convincing. The sound ranges from modern bright to warm vintage. After increasing the gain slightly and switching to the Telecaster's bridge pickup, we tried the crunch models: the British Orange is one of our favorites and British Blue sounds rather good, but the British Lead doesn't quite convince us.
We then tested the fat distortion sound with the Les Paul: British Lead is promising but metal sounds can become a bit harsh if you don't find the right setting. We noticed that the mics and their position in front of the speaker really change the sound and allow tonal variations without the need of an EQ. This feature is essential, and adding a bit room ambiance allows you to increase the volume and slightly fatten the sound.
The modulation effects sound well. The chorus and phaser are especially convincing and practical. In some cases, the fuzz and distortion pedals can add a lot of noise (especially the Big Pig!). In fact, compared with competitor products, the software produces quite some background noise with high gain settings, so you'll have to use the noise gate…
We changed the sound quality (hi, mid and eco modes) while playing and even though the sound quality of the reverb decreases a lot in eco mode, the instrument timbre remains satisfactory, so it allows you to easily save CPU power!
Enough chatter, listen to the samples:
Telecaster Manche Phazer 10

00:20

Telecaster Manche Chorus 1

00:20

Telecaster Chevalet British Blue Tube 30TB

00:11

Telecaster Chevalet Vintage Combo

00:11

Les Paul Chevalet British Lead 1

00:15

Les Paul Chevalet Big Pig

00:15

Telecaster Chevalet British Copper

00:11

Les Paul Chevalet Fuzz Age

00:15

Telecaster Manche American Vintage D

00:20

Telecaster Manche American Vintage B

00:20

Telecaster Manche American Vintage T

00:20

Telecaster Chevalet British Lead

00:11

Les Paul Chevalet Metal Lead V

00:15

Les Paul Chevalet ProRat

00:15

Telecaster Manche Tube Clean 1

00:20

Les Paul Chevalet Metal Lead

00:15

Les Paul Chevalet American Lead MKIII

00:15

Telecaster Manche Uni-V

00:20

Les Paul Chevalet OverScream

00:15

Telecaster Chevalet British Orange

00:11

Les Paul Chevalet British Tube Lead 2

00:15

Telecaster Manche American Clean MKIII

00:20

Telecaster Manche Small Phazer

00:20
Conclusion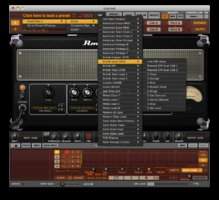 The third Amplitube version brings some interesting new features along, including new modelings (the list is getting longer!), an integrated 4-track recorder and the possibility to use two pedalboards/amps/speakers/effect racks at the same time. This is good news for users who like to jam with friends because each musician plays his own guitar and his own rig! The large mic and speaker selection multiply the possibilities. The three quality modes available allow the software to match the computer depending on its resources, while the pedalboard drag & drop feature, the preset browser and its tagging system add a lot of comfort.
Nevertheless, we do have to criticize the background noise that is always present as soon as you increase the gain, and also the higher price compared to competitor products (can we expect a price reduction anytime soon Mr. IK?). However, there's no doubt that Amplitube remains one of the top products out there and it will delight guitar players looking for a comprehensive and powerful software.