Softube models the Mutronics Mutator
For a slice of the Mutronics Mutator price, you can now use the iconic processor filters and effects in your DAW.
Softube has launched a digital version of the Mutronics Mutator stereo analog filter and envelope follower in VST2/3, AU, RTAS and AAX 32 and 64-bit plug-in formats for Mac OS X and Windows.
The device had a short life at the end of the 90s and can be heard on some of the Radiohead, Beck or Massive Attack albums, to name a few. Unfortunately, one of the essential component was quickly discontinued and Mutronics had to stop the production.
The Mutator features a voltage controlled filter (VCF) on each of its two channels, which allows for creating sweeps. The filters can be controlled via different sources, including the built-in envelope follower that sweeps the filter proportionally to the source amplitude, or the built-in LFOs which offer 4 waveforms. A Gate mode allows for controlling the filter activation.
The processor also includes a sidechain input to control the filter movements from an external source. You can also chain the channels.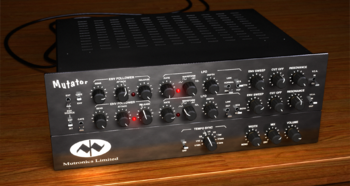 The Mutator plug-in offers stereo width, filter cutoff and resonance controls, as well as sensitivity, envelope follower attack and release, tempo sync (switchable), volume and dry/wet Mix knobs. You can also combine the VCA and VCF or use them separately via a dedicated switch.
The plug-in can be applied to any audio source (guitar, vocals, keyboards, drums…).
Price: $129
A trial version can be downloaded if you have an iLok account, from www.softube.com.
Viewers of this article also read...