In addition to recording music with your iPhone, you can also edit and produce your music with the little magic machine. A DAW in your pocket!
We'll start with Xewton Music Studio, a pretty comprehensive MIDI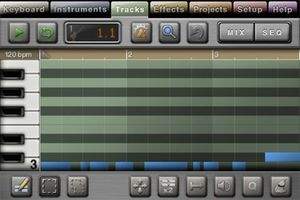 sequencer if you consider that it runs on a mobile phone. It features 128 MIDI tracks, 4 FX sends (reverb, delay, EQ, amp simulation) and 21 instruments – more than enough to get you started… But even though the instruments will cover most of your needs and you can edit their volume envelope curve (in a somewhat rudimentary way), don't expect too much from their sound (the quality is on the same level as an old wavetable Sound Blaster sound card, in other words cheap-sounding, but usable, Soundfonts).
On the other hand, the sequencing functions are pretty comprehensive including a dual, virtual MIDI keyboard for real time control of two instruments, a piano roll view, an arranger window, velocity management, and all necessary sequencing functions like cut, copy, paste, transpose, etc. It goes without saying that you can set the volume and pan for each track and, more importantly, you can export your work as a WAV or MIDI file. In conclusion, it is definitely a must-have for the iPhone and well worth the $19.99 the developer asks for it.
Did You Say MPC?
Intua's BeatMaker was conceived for electronic music, hip-hop and trip-hop, but what's even more impressive is that it's a sequencer/sampler with MPC-like pads. It, too, provides WAV/AIFF and MIDI export functions. Plus it features 16 pads to trigger your samples and a comprehensive FX section (synchronizable delay, 3-band EQ, Bit-Crusher, and multi-mode filter assignable to two FX busses) whose FX send level can be set for each pad. To record parts you can use the pads or a relatively comprehensive step sequencer. To arrange your songs you have a pattern-based system with volume, pan, groove, and pitch control for each step.
But it is even better for sampling applications because it provides several ready-to-use banks (some of them signed by Richard Devine, Man Parrish, Jacque Polynice, Rafiralfiro) and it allows you to create your own banks, either by importing your samples (8 to 24 bits plus Noise.io support) or recording them with the iPhone mic to share them with the community. When it comes to editing you have a compact audio editor at your disposal with the possibility to set, for each pad, the sample start and end points, volume, pan, pitch, fade in and/or fade out, and transpose (1/2 tone or octave). For live applications you can play up to five pads simultaneously, mute and invert samples on the fly and control several sample or FX parameters using a nice X/Y pad. The complete package is 164 Mb and costs $19.99, which is not much considering its features.
Insight's BeatSequencer BoomBap is more chaotic but really interesting since it includes a 60-pattern step sequencer and a sampler that allows you to record directly with your iPhone or use any other sample. A song can include up to 20 groups of 16 pads/samples each. The software also provides effects like a "puncher", delay, reverb, and chorus plus a mixer that gives you access to the 16 volume controls of the groups and also lets you assign the six effects for each sound. Lastly we also have to mention that the application offers ZIP export/import functions for your projects and it only costs $14.99.
With a plainer look and multi-platform capability (it is also available for Windows, Linux, Mac OS X, Windows Mobile, and PalmOS), SunVox is an extremely powerful software combining a modular synth/sampler and an Amiga-like tracker for sequencing. It has WAV export capabilities and provides incredible possibilities by combining the plentiful modules available: FM synth, sound generator (saw, triangle, square, and noise waveforms), kicker, sampler, SpectraVoice (an FT-based synth), delay, distortion, echo, multi-mode filter, flanger, LFO, loop, reverb, vocal filter, and vibrato. At $4.99 you would be a fool not to have it…
Relying on the tracker-like approach as well but without a modular design, iSequence offers more sounds, including 110 instruments extending over three octaves to be used as 99 patterns on five tracks. Sold for $4.99, the software provides a single screen interface and offers MIDI, WAV and ioLibrary (also available in BeatMaker) export functions.
From Tenori to GrooveBox
For sequencing tasks you'll find lots of basic applications inspired by Yamaha's Tenori-On like PaklSound1, SoundMatrix II, Tripper, or Melodica. Unfortunately, since they include no MIDI or audio export functions they can only be considered toys to kill time (even if you still have the option to connect the iPhone/iPod Touch headphones output to the input of a sound card!). Good, let's take a more precise look at Soundgrid which also provides a Tenori-On-like matrix sequencer for only $1.99, but is much more comprehensive than most of its competitors. It features sample import, management of eight layers with eight patterns each, real-time FX (delay and multi-mode filter)… enough to entertain yourself for a while.
And what about grooveboxes? They also have their place on the iPhone/iPod Touch platform but, even though most of them are excellent, they have no WAV or MIDI export functions. That's why we won't talk about the very recommendable Fingerbeat, Rangrid, TechnoBox, Digital Bass Line DB-303, and BtBx but focus on the bleep!BOX. With its great-looking interface, the "bleep box" offers 10 drum or synth lines with over 50 editable parameters, either sequenced or in real time, for only $9.99.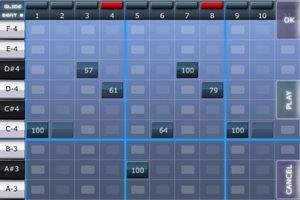 Sold for $8.99, the 8Bitone is less versatile but very well thought-out. Conceived by the developer of the RecTools recording application, it provides you with Commodore 64/128-like sounds and an excellent sequencer with piano roll view.
It's sometimes hard to know if the synth is hosted by the sequencer or the other way around. Whatever the case, don't miss the Noise.io Pro Synth, which can certainly be considered one of the most powerful synths available on the market for the Apple gadgets. It sells for $14.99. Combining FM and subtractive synthesis, it provides automation of every single parameter, a pitch sequencer, a trance gate, and a velocity-sensitive keyboard! It also offers a WAV export function and is compatible with BeatMaker, which is THE virtual MPC for the iPhone… only lacking sound synthesis!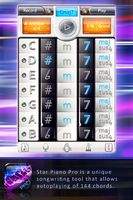 We recommend you to take a look at the other apps by the same developer. They all provide BeatMaker support and sequencing functions: Guitar Pro, and especially Piano Pro, are based on a chord and rhythm pattern library and allow you to record sequences. While the guitar doesn't sound very authentic, we do recommend the piano – it sounds as good as an acoustic or electric piano. At $4.99, it is a good option to record a demo, and even more so considering that it is also possible to record vocals…
Loop the Loop
To wrap up this non-exhaustive iPhone sequencer overview let's
take a look at loop-based production tools inspired by Acid/Garageband. With a brilliant design, IK Multimedia's Groovemaker is available for different music styles at $7.99, but you cannot import your own loops, which is a major drawback. That's why we prefer Looptastic's Producer version ($9.99), because it allows you to import your own WAV, AIFF and OGC files. It can synchronize up to 20 files at the same time and allows you to export your mix.
It's a pity that you cannot record! That's the whole point of loopers and loop samplers! They come in very handy to record song ideas on the spot and loop the loop with our previous report about iPhone audio recorders. Anyway, we will only mention the nice StompVox, which lacks an export function, and take a nearer look at the excellent iSample which has been praised by Roger Linn himself and Jordan Rudess. This app provides six 30-second samplers, a mixer, a loop editor, delay and reverb effects, and a 12-pattern sequencer. Everything for only $9.99.
On the other side, some of you will appreciate the simplicity of
Everyday Looper! The oddness about this 4-track looper is the GUI with no buttons: you can slide both ways using 1, 2 or 3 fingers to start or stop the recording, toggle between different tracks, and export the result of your work via WiFi. This app is very ergonomic and costs only $3.99.