Musikmesse
[Musikmesse] Cloud Microphones 44-A
See all Musikmesse 2013 news items »
Cloud Microphones is attending Musikmesse where they introduce their Cloud 44-A active ribbon microphone.
The Cloud 44-A microphone is based on the RCA 44 ribbon model but Cloud Microphones used here modern manufacturing technologies.
The ribbon retain the specifications defined by RCA Harry F. Olson in the 1930's, but the rest of the design has been modernized, with the inclusion of a high-pass filter which allows vocalists to reduce the proximity effect. When the filter is disengaged (Music position), the Cloud 44-A can be used with any type of instrument.
The Cloud 44-A microphone will be available in May, 2013. No information about the retail price. All the technical details will soon be available at cloudmicrophones.com.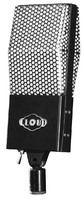 Viewers of this article also read...