The name Ampeg makes bass players' ears stand up and tails wag. There is a good reason for that: launched during the 1969 NAMM, their SVT amp still has a leading position in the hearts and minds of most bass players. However, today we won't review a bass amp, but an amp conceived for six-string players. Focus on the GVT52-112 & GVT15H.
Even though Ampeg has released guitar amps in the past, they are still pretty unknown and even underestimated. What's more, bass products clearly take the lion's share in the manufacturer's catalog: bass heads, bass combos, Heritage Series, SVT Pro, Portaflex… So we were surprised to discover a brand new guitar amp range at the Musikmesse 2011! Called GVT, this series looks a lot like the old SVT monsters (300 watts in those days…) and will seduce Ampeg and vintage gear fans.
With their chrome control panel, buttons evoking a time most people under 40 didn't know, and old-school logo, these new GVT amps have an appealing look and ride the wave of vintage gear for guitar players. One can easily imagine the sound coming out of the speakers just by looking at them and immediately feel nostalgic.
Let's start with simple things: the small 15-watt head and its speaker cabinet.
Small But Tough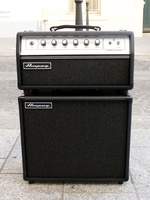 I don't know about you, but personally I can't resist tiny stacks! They look lovely, don't they? With its compact size (9.8"×18"×10") and light weight (27.4 lbs), this amp head is perfect for home use while being easily transportable. The speaker cabinet is equipped with a Celestion Vintage 30 12" woofer, weights 30.8 lbs and has similar dimensions 16.5"×18×11". Both devices together weight less than 60 lbs, plus they are easier to transport than the combo: just hold the amp head with your left hand and the speaker cabinet with your right hand, stand upright and you are ready to go.
The two devices look pretty sturdy: 15-mm plywood, thick leather handle and metal front panel. The knobs feel very firm and inspire a lot of confidence, the switches feel pretty tight as well.
And what's inside?
A Well-Furnished Mind in a Small Head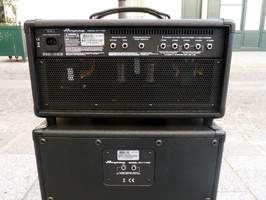 The GVT15H features only one all-tube channel (class-A push-pull technology). The preamp stage has a pair of 12AX7 tubes while the power amp uses two 6V6GT tubes. You can halve the output power and get 7.5 watts instead of 15 (15 W = tetrode; 7.5 W = triode).
The Baxandall three-band EQ provides standard Bass, Middle and Treble settings. On the front panel you'll also find the gain, volume and reverb controls. The Treble setting allows to cut/boost up to 12dB @ 5kHz, the Bass control is set to work on 80Hz, while the Middle knob allows you to cut up to 6dB @ 800Hz or boost up to 10dB @ 2kHz. The spring reverb and the rear FX loop can be disabled with a footswitch. You can connect 4, 8 or 16 ohm speakers to the amp using the appropriate rear output.
And that's it for the overview of this extremely straightforward amp head. But how does it sound?
Machine in my Head…
Advice for distortion addicts: this head produces only clean sounds, meaning you will get no crunch sounds out of it even if you play a Les Paul and crank the gain and volume settings. If you want a real distortion, you'll have to use a stompbox. The sound is quite convincing, both with single-coil and humbucking pickups. The EQ section is effective. The Middle control is quite clever because it cuts/boots different frequencies (cut: 800Hz; boost: 2kHz). Boosting the mid frequency range allows your guitar sound to cut better through a mix, which can be useful in many situations. The following sound samples show you how this setting works:
00:00
00:24
Ampeg GVT15H

00:24

Ampeg GVT15H

00:23

Ampeg GVT15H

00:23

Ampeg GVT15H

00:24

Ampeg GVT15H

00:24

Ampeg GVT15H

00:24

Ampeg GVT15H

00:24

Ampeg GVT15H

00:24
The reverb is pretty long. You'll either like it or won't use it at all, depending on your music style.
The lack of a lead channel will be hard to understand to some, while others will feel immediately at home with this. The latter can use their own stompboxes and control their sound a bit more. It's all a matter of philosophy and style… The price (about $500 for the head and $250 for the speaker cabinet) may seem a bit high considering the features provided. This amp offers few but good things only. If you know what you want, you won't be disappointed.
Conclusion
Its sexy look, manufacturing quality (made in Korea) and clever EQ make this small stack quite appealing. If you like stompboxes and are looking for a vintage-type amp, you should consider this product seriously. If you want an all-round, all-in-one amp, forget about it.
Manufacturing quality
Clever Baxandall EQ
Great look
Clean sound quality
Only one channel and no distortion
Price, considering the output power
Now, let's give the 50-watt combo a try.
C-c-c-c-combo Breaker
Same look, same manufacturing quality, so let's move on to the interesting parts right away.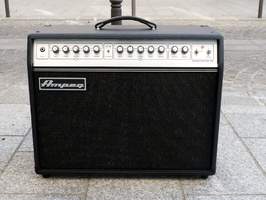 This time, you get two channels, 50 watts of output power and an all-tube class-AB amplifier stage. The amp uses three 12AX7 tubes at the preamp stage and two 6L6GC tubes for the power amp. The triode operating mode is still available and allows you to halve the output power (25 watts). Weight (52.2 lbs) and dimensions (19.5"×24"×11") are still reasonable. The internal speaker is a 12" Celestion Custom Design. A good-quality footswitch is provided and it allows you to select a channel and activate the booster. Notice that it is possible to add a second footswitch to enable/disable the internal spring reverb and the FX loop.
The first channel produces only clean sounds and bears a lot of resemblance to the 15-watt head: same three-band Baxandall EQ, gain and volume controls. To switch to channel 2, you can use the small switch on the front panel or the footswitch.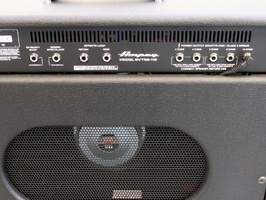 The EQ in channel 2 is slightly different: the mid boost is set at 1kHz, instead of 2kHz like in channel 1. All other controls are identical. The reverb setting and (of course) the master volume are common to both channels. Even if the combo offers a bit more than the head, it's still pretty straightforward. There's an LED that lights up red in standby mode and green when the amp is ready to be played — nice little detail.
On the rear panel you'll find an effect loop (TS jacks), two footswitch connectors (only one is provided), and the outputs for 4, 8 or 16 ohm speakers. If you're not sure about this last point, the user's manual clearly explains the impedance to be used depending on the number of speakers and their impedance. Before listening to the sound samples, notice that the booster is accessible only from the footswitch and is common to both channels.
Give Me Some Sound!
The first surprise is the difference in output power between the two channels. In fact, you must raise the volume control in channel 1 quite a bit if you want to match the output power of channel 2, which is very loud. It even raises the doubt of whether it would be possible to play with a heavy drummer using channel 1. The advantage is that you can still use your amp in your apartment. Generally, the volume control of 50-watt tube amps require a lot of handling precision, unless you want your whole neighborhood to come knocking down your door. With this amp, you can turn on the volume control up to 12 o'clock and still have a reasonable loudness. However, we asked the manufacturer and they assured us that only pre-series models are affected by this volume difference. To be checked later…!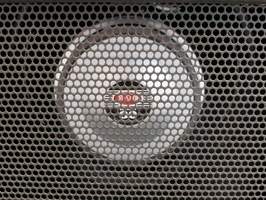 If you want a loud clean sound, channel 2 can provide a slight crunch (you must have low output level pickups and disable the booster). This way, you get a more vintage tone than with channel 1.
Once you increase the gain or enable the booster, you get a real crunch sound and even a fat overdrive, but no metal sound. We even tried the amp with an Ibanez RG guitar and all knobs set to max: the sound was a bit muddy and not very interesting. In short, this amp is not for metal freaks but will please guitar players looking for blues, rock, crunch and overdrive sounds. With a Les Paul we got a very sexy, round and warm tone. The amp also sounds pretty nice with a Telecaster and it faithfully reproduces the character of the instrument: the twang is very present, to our delight! With the boost enabled, you can even play lead parts easily. The overall overdrive sound is grainy, so you'll either like it or not, it's a matter of taste! Do notice that we heard a slight resonance when the amp is cranked fully up (palm-muting with the volume and gain settings nearly set to max and using the neck pickup). We'd have to find out if this is something related only to the pre-series unit we tested…
Below you'll find the sound samples we recorded:
Ampeg GVT52

00:18

Ampeg GVT52 Clean

00:21

Ampeg GVT52 OD

00:23

Ampeg GVT52 OD

00:21

Ampeg GVT52 OD

00:22

Ampeg GVT52 OD

00:18

Ampeg GVT52 OD

00:24

Ampeg GVT52 OD

00:24

Ampeg GVT52 OD

00:22

Ampeg GVT52 OD

00:19
Conclusion
Following the same philosophy as the 15 watt head, this amp does only a few things but does them good. It provides you with the same valuable features, for instance a clever EQ, a great vintage look and a high-quality finish. The overdriven sound of channel 2 will please people looking for a warm, vintage and even sandy sound. For $750 (112 version) or $900 (212 version) you get an amp with a strong personality you can use on stage (channel 2 only!) or in your bedroom.
Manufacturing quality
Clever Baxandall EQ
Great look
Nice distortion sound
Clean sound in channel 2
Rather expensive
Channel 1 has not enough output power on our pre-series amp
Our Readers to the Test
For the very first time, AudioFanzine invited five readers to a studio session so that they could try both amps in a professional environment with their own instruments and stompboxes. The following video captures their impressions (warning! some parts in French, but the tone is universal :-) :