Hiwatt has launched its tube series, a full range of compact amps presented as offering the typical British sound of their legendary brothers in spite of their small dimensions and their more affordable price. You can currently choose between three different output powers: 40, 20 or 10 watts. Every amp is available as a combo or head. Let's check out if their bet is successful by reviewing the T20 combo.
Hiwatt to Know More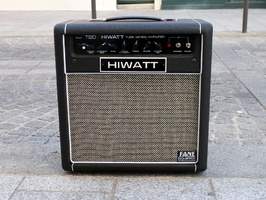 From a technical standpoint, the T20 is based on a pair of EL84 power tubes plus two 12AX7 and one 12AU7 preamp tubes. The amp provides you with two channels (clean and overdrive) switchable via the dual footswitch provided (OD/clean and Reverb on/off). You can also select the active channel from the front panel, which also offers a gain control for each channel plus a master control (meaning there is no dedicated output level setting for each channel). The 3-band EQ is shared by both channels. Notice that the mid-band control is a push-pull potentiometer allowing you to shift the mid boost towards higher frequencies. This can be quite useful, for instance to have a slightly brighter sound when recording lead parts. The front panel also features a reverb level control and a couple of Standby and Power switches… and that's it with the front panel! On the rear panel you have a connector for the dual footswitch (channel selection & reverb on/off), a line out (to feed a mixer or a power amp with the T20 preamp signal), and an 8-Ohm speaker out. This way, you have the possibility to use the T20 as an amp head feeding an external speaker cabinet. The 12" speaker in the T20 is a Fane Medusa 150. Hiwatt has been using Fane speakers for almost 40 years…
As a summary, the T20 has all features of an amp conceived for recording applications, for playing at home, and for gigs in small clubs. I tried out the T20 with three different guitars: a Les Paul Custom, a Tom Anderson Strat and a Gretsch Billy Bo.
Hiwatt to Make It Clear!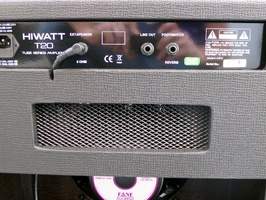 The clean sound is the spearhead of the manufacturer, famous for its wide frequency range and deep and warm character that always stays extremely "airy". This new T20 is no disappointment. In spite of the limited output power, the amp produces the slight low-frequency compression and the beautiful soft brilliance typical of Hiwatt amps. You get a real clean channel: very high-output guitars do not start to crunch until the gain is set to 2 o-clock. Listen to the sound sample recorded with the Les Paul Custom: the bridge pickup is a kind of "Frankenstein" (Eddie van Halen's pickup). It uses coils taken from two different pickups and has 24 kOhms of output resistance. The sound is slightly overdriven, but the amp was already pretty loud.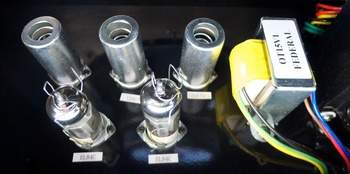 The T20 clean channel is no exception: like its big brothers, it works perfectly with stompbox chains and can even improve their sound. You won't complain because of a lack of low frequencies and your favorite distortion pedals won't sound like a duck call. Your overdrive pedals will sing, your fuzz pedals will grumble and you'll enter the same legendary Hiwatt world David Gilmour and Jimmy Page did before you. The lack of FX loop is not a problem considering the ability of the clean channel to "withstand" any effect chain. Unlike other amps (e.g. Marshall), this clean channel does fine even with delay and modulation effects.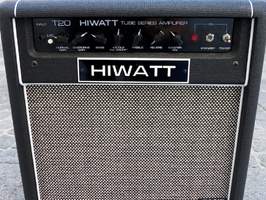 The 3-band EQ (shared for both channels) provides you with rather soft controls, recalling a Marshall EQ rather than drastic Fender filters. The reverb is subtle, more spacey than vintage. You won't hear how the sound runs through old springs. After shaking the amp several times to produce the typical mechanical thunder of used springs, I even started to think that the reverb didn't use springs at all. But I was wrong. The amp does actually include an Accutronics spring reverb.
Just check out the samples recorded with the three different guitars.
Guitar: Gretsch Billy Bo. A little bit of reverb, gain @ 10 o'clock. All three EQ bands flat (12 o'clock).
Guitar: Gibson Les Paul Custom. A little bit of reverb, gain @ 12 o'clock. All three EQ bands flat (12 o'clock).
Guitar: Tom Anderson Strat. A little bit of reverb, gain @ 12 o'clock. All three EQ bands flat (12 o'clock).
Tone Shift @ 1'20.
Hiwatt It Rough!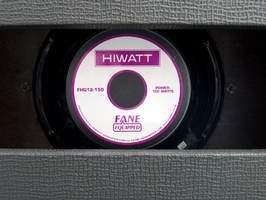 The T20 lead channel won't please every guitarist. This channel is definitively not versatile. The sound is very muddy and grainy with highly emphasized lows. If I had to sort it into a category, I would say it reminds me of the European sound of the mid/late 70's — think Black Sabbath, SAHB, the first steps of punk music… I find this channel matches my Stratocaster perfectly because single-coil pickups have the advantage of lightening the low-frequency range. With this guitar, the lead channel sings very well. With humbucker pickups it's not easy to have the lead channel under control and it is very difficult to do "special" things like pinch harmonics. It is even difficult to recognize the original tone of the guitar because the distortion sounds more like a fuzz than saturation. This channel requires moderate or even low gain settings because the tone becomes dirty very quickly (on the other hand, very few distortion effects can do this…). This channel should be very useful for punk or old-school hard rock, for example.
Listen to the sound samples:
Guitar: Tom Anderson Strat.
Low gain, then high gain at 0'53
Guitar: Gibson Les Paul Custom.
Low gain, then high gain at 1'05, Tone Shift active at 1'15
Guitar: Gretsch Billy Bo.
AF Clean Stratocaster Manche

00:25

AF Clean Telecaster Manche

00:23

AF Clean Telecaster Manche Mid-Up

00:21

AF Clean Telecaster Milieu

00:24

AF Clean 335 Manche

00:16

AF Clean 335 Milieu

00:24

AF Clean Gretsch Milieu

00:24

AF OD Stratocaster Manche

00:22

AF OD Telecaster Manche

00:21

AF OD Telecaster Chevalet

00:20

AF OD Les Paul Manche

00:24

AF OD Les Paul Chevalet

00:23

AF OD SG Classic Manche

00:23

AF OD SG Classic Chevalet

00:24

AF OD Ibanez Chevalet Mid-Up

00:19

AF OD Ibanez Chevalet Mid-Down

00:19

AF OD ESP Chevalet Mid-Up

00:19

AF OD ESP Chevalet Mid-Down

00:19
Conclusion
The T20 is a very good tool! You get the typical Hiwatt sound in a compact and easily transportable amp (only 35 lbs). Ideal for playing at home, small club gigs (unfortunately not in larger venues) and especially for recording applications… As a summary, this amp offers you an amazing and versatile clean channel and a (too) typical lead channel that you should consider as an extra. For about $625 (street price), it is the ideal choice for a first high-quality amp or for a professional musician who wants to add another sound to his tone palette. For about $100 less you can get the T20 amp head, and for about $200 more, the T40, which will allow you to play on larger stages while having the possibility of reducing the power to 20 watts via a simple switch on the front panel. Yeah!
Technical notes:
The sound samples were recorded with a Shure SM57 in front of the speaker and a Brauner Phantom V as room mic (about 6 ft from the amp). Both mics were connected to a MOTU 896 audio interface. No audio processing was used on the recordings, except for a 120Hz low-cut filter on some distortion sounds.
The other AF samples were recorded with a Shure SM57 and a Sennheiser e906 in front of the speaker.