Hot news
A mic preamp equipped with Auto-Tune by ART
ART Pro partnered with Antares in order to equip their tube preamp with the Auto-Tune system. And here is the Auto-Tune Pre!
The ART Auto-Tune Pre is a discrete microphone preamp equipped with a 12AX7 valve and the Auto-Tune EFX hardware section, which is similar to the Antares plug-in. The several built-in buttons will let you choose the key, scale and type of effect and you can save the edits into five footswitchable presets. The footswitch is optional and also allows you to enable the bypass.
A 1/4" insert jack is present is you want to add processing between the preamp and the Auto-Tune section.
No information regarding the retail price and availability. Visit artproaudio.com for full technical details.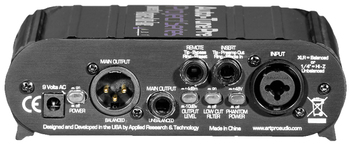 Viewers of this article also read...