IK Multimedia Updates VocaLive 1.5
IK Multimedia announced the release ofVocaLive version 1.5, IK's vocal effects processing app for iPhone/iPod touch or iPad.
This update includes new control features and expanded compatibility with hardware devices.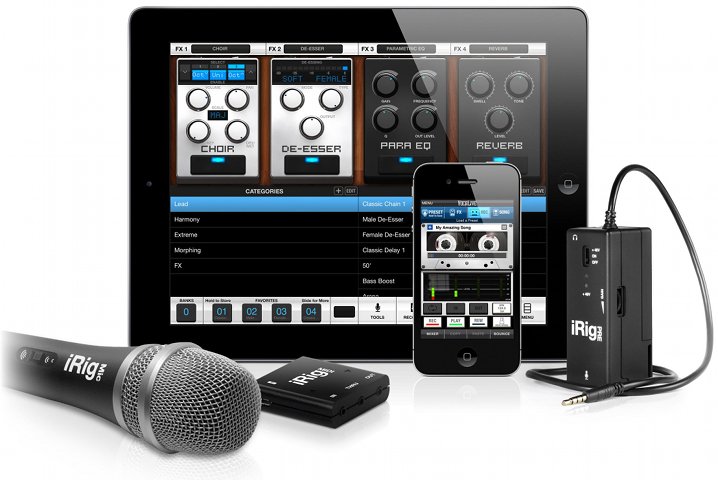 New Features in VocaLive include:
MIDI Support: VocaLive 1.5 adds additional control functionality through Core MIDI support, allowing users to control knobs, buttons, presets and other assignable parameters with a standard MIDI controller and a MIDI interface for the device, like IK's iRig MIDI interface. This feature is a free add-on for iRig MIDI owners, or available via in-app purchase.
Digital Audio Support: VocaLive now supports both mini-jack input devices like IK's iRig Mic, iRig Mic Cast and the new iRig PRE via the device headphone jack, as well as 30-pin/Lightning digital audio interface devices.
Share: In addition to exporting via iTunes and email, VocaLive now provides file sharing via direct export to SoundCloud and FTP transfer.
Redesigned Recorder: VocaLive features a single-track recording studio expandable to 4 tracks (iPhone) or 8 tracks (iPad) with bounce, mixer and master effects section. The new recorder section now includes a Loop function for looping sections of recorded material, a new visual Metronome and a quick access Tap Tempo button plus Copy/Paste function to quickly exchange audio material with other apps.
New Mixer section: A new mixer interface has been added to the recorder allowing control of master reverb send, channel level, pan control, mute and solo buttons, plus an FX button for applying the VocaLive signal chain to the recorded material on the individual channels. This feature also allows "re-effecting" of tracks.

New Features in VocaLive 1.5:
Digital Audio Support (use any standard 30-pin/Lightning audio interface)
Core MIDI Integration for Program Change and Continuous Controllers
(Available via in-app purchase)
Restore In-App Purchases Function
New Export via SoundCloud, FTP and Copy
New Re-Designed 4-track Recorder and Mixer section
(Available via in-app purchase)

Price & Availability:
VocaLive 1.5 is a free update for current VocaLive users. New users can purchase VocaLive on the App Store or at www.itunes.com/appstore for both iPhone/iPod touch or iPad for $19.99/€17.99 each. A free, expandable version is also available allowing to purchase the individual effects a-la-carte inside the app starting at $2.99/€2.39 each.
For more information, visit www.ikmultimedia.com/vocalive.
Viewers of this article also read...