Among the host of new products introduced by Natives Instruments in September, we found a new Kontakt version. Here is a quick overview of its new features.
Over the years, Kontakt became a topper on the software samplers market. But after the launch of MOTU's MachFive 3 and Steinberg's HALion 4, Native Instruments had to react by updating its baby. What's new in version 5? Let's dive in…
Your Effect On Me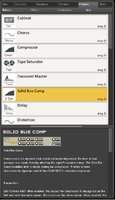 The German manufacturer often uses internally (or even externally) developed technologies to enhance some of its products. Thus, we have found some of its brand new effects in NI's virtual drums Studio Drummer (G-EQ, Solid Bus Comp), or the convolution reverb Reflektor in Guitar Rig Pro 5, etc. Kontakt 5 is no exception and hosts four new already existing effects: Solid G-EQ, Solid Bus Comp, Transient Master and Tape Saturator. We won't dedicate more time and space to these effects that we have already described on AudioFanzine. However, we are happy to find them in Kontakt because they extend its audio-processing capabilities. Considering the price of the single effects, it's a nice gift from Native Instruments!
Unfiltered Quality

Among the new features, we noticed the addition of 37 new filters for the joy of all sound designers. All the more considering that the creator of the virtual synth Massive is behind these new features — did we mention already that the manufacturer likes to cross-use its technologies? There are standard filters (high pass, low pass, band pass) with different slopes and resonances, classic filters (Ladder), clean filters (State Variable) or aggressive filters (Daft), peak/notch filters, formant filters for talk-box effects, multi-filters (filter combinations), etc. The full (and long) list is available here and the user's manual is very comprehensive regarding filters. Also notice the availability of AR (Adaptive Resonance) filters that adjust the resonance depending on the input signal. These come in very handy to soften a sound, for example.
Vintage Samplers and Time Stretching
Native Instruments didn't forget about old MPC fans and added new modes allowing you to recreate the sounds of the 80's. And guess what? The algorithms come from Maschine, Native Instruments' own "MPC." The first mode, S1200, reduces the sample quality (12 bits, approx. 26 kHz) and changes Kontakt's behavior with regard to pitch and audio engine. The second mode, MP60, emulates another MPC from the 80's (Akai?) and uses the same principles as the first mode to produce a vintage sound; and of course, the quality is better than the S1200.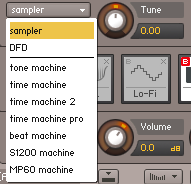 Another new feature in Kontakt 5 is the addition of a time-stretching algorithm (Time Machine Pro). Guess where this technology comes from? From a third-party developer called zPlane whose skills have been proved tried and true. By the way, Native Instruments is not the only manufacturer working with this development team. In fact, zPlane has also worked with prestigious companies like Steinberg, Ableton, Korg, Image-Line, Mackie, M-Audio… This algorithm needs more resources than the other features but its quality is higher and the only one providing a real-time reverse mode. Native Instruments recommends to use it if you want authentic results but not for extreme sound processing.
Bus and MIDI
NI redesigned the bus, which now offers 16 channels with inserts and FX sends. You can use different insert effects in some channels, while you still have the possibility to send all of them to a stereo compressor using Aux sends. This was already possible with software sequencers, but now you can do it directly within Kontakt. Nice!
With Studio Drummer (based on Kontakt's engine) we discovered new MIDI files called "grooves." In fact, this is a new feature of Kontakt 5 that allows you to play loops and patterns "in the box" using Kontakt's own MIDI-file player. This also allows all Kontakt sample banks providers to offer MIDI files and to embed them directly into the GUI, which is certainly a good news for the users.
Finally, it's also worth mentioning that everyone who buys Kontakt 5 will get the Retro Machines mk2 library (to be downloaded directly on NI's website). This library combines samples of old analog and digital synths, an arpeggiator and presets for the Kontakt 5 engine. Considering the price of the library, it's a nice gift from Native Instruments.
Conclusion
Kontakt hits the nail on the head by offering features taken from other NI products: effects from NI's Solid Mix series, filters designed by the creator of Massive, "MPC vintage" modes from Maschine, and a new time-stretching algorithm signed by zPlane. Add to this more comprehensive routing facilities (inserts, Aux sends) plus an integrated MIDI-file player and you get the reference tool among virtual samplers. Given the price, version 4 owners who don't have the Solid Mix effects should upgrade without hesitation. If you thought about buying Retro Machines mk2, consider buying Kontakt 5… If you don't have a Kontakt license yet, we recommend you to take a serious look at Komplete 8: for about $100 more, you get a very comprehensive collection of Native Instruments software tools.