Freeware
2 Cinematique Instruments get free
Cinematique Instruments now offers two of its virtual instruments for Kontakt for free, the Cement 2 and Sägezahn 2015.
Sägezahn (sawtooth in german), the saw wave library based on the Korg MS20, Roland JX-3P, Ensoniq ESQ-1 and Electro-Harmonix Microsynth instrument waves, has been completely revamped in a new 2015 edition, and is now free. The new GUI now gives you a fully-functional synth, with a single complex patch. Cinematique Instruments also reorganized the samples in 8 banks:
Saw 72 for a phat and warm sound

Funk Boy punchy with phasing effect

Juno, the typical synth saw wave

SyncClavs, a Juno clavinet simulation

Phat Ape for a phat and aggressive sound

MS Fart 1 Osc, the pure Korg MS20 sawtooth waveform

MS Dbl Saw 2 Osc, another saw wave from the MS20
Sägezahn 2015 offers multiple sound shaping options, including modulation for filter and volume, resonance, frequency attack and decay controls, distortion and chorus effects, detune for the multi-voices and an arpeggiator is also included.
Sägezahn is available for free download from www.cinematique-instruments.com/inst_sagezahn2.php.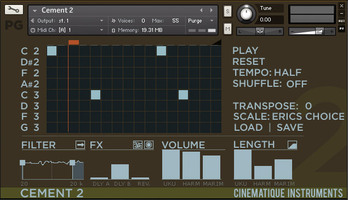 Cement 2 is a sequencer-based pattern generator with three instrument layers: a muted baritone ukulele with 2 round robins, electric guitar harmonics with 2 round robins and a marimba. The idea is to compile these sounds to generate new sonic colors and modify them with the included high and low-pass filter (with a random high-pass modulator), distortion, speaker emulation, sine wave for a sci-fi effect, two delays and a reverb. Cement 2 also includes 4 types of scales, transpose, shuffle, several tempo modes (sync to host or standalone) and you can store and recall full setting presets.
Cement 2 can be downloaded from www.cinematique-instruments.com/inst_sagezahn2.php.
Note that both instruments require the full version of Kontakt 4/5.
Viewers of this article also read...