A big surprise that arrives at the end of 2010 is the new Yamaha Motif XF, which gives a boost to the sound quality and the spontaneity of workstations. So how much more advanced than its competitors is it?
A Snap Shot: A Mini-Review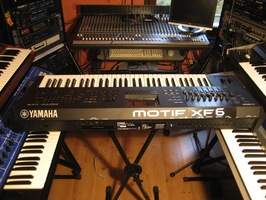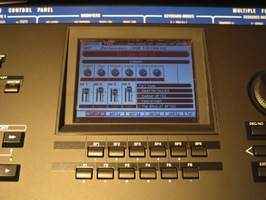 Motif Xf Prog Apiano1

02:05

Motif Xf Prog Apiano2

00:33

Motif Xf Prog Apiano3

01:30

Motif Xf Prog Wurly

00:17

Motif Xf Prog Clavinet

00:18

Motif Xf Prog Bass

00:34

Motif Xf Prog Strings

01:29

Motif Xf Prog Vibes

00:31

Motif Xf Prog Fhorns

00:31

Motif Xf Prog Rhodes

00:37

Motif Xf Prog Stabs

00:29

Motif Xf Prog Synthbass

00:24

Motif Xf Prog Guitars

01:13

Motif Xf Prog Accordeon

00:26

Motif Xf Prog Pads

00:35

Motif Xf Prog Harpsi

00:26
Motif Xf Perf Stripbar

00:59

Motif Xf Perf Raide

00:46

Motif Xf Perf Blowrio

00:59

Motif Xf Perf Domination

00:35

Motif Xf Perf Sexibiza

01:11

Motif Xf Perf Saute

00:38

Motif Xf Perf Beat

00:27

Motif Xf Perf Pornochic

00:50
Motif Xf Kit Oak

00:25

Motif Xf Kit Orchestral

00:24

Motif Xf Kit Percu

00:19

Motif Xf Kit Turkish

00:27

Motif Xf Kit Japan

00:30

Motif Xf Kit Hiphop

00:24

Motif Xf Kit Maple

00:22
New Features
New features of the XF version (tested with OS 1.12)
We made the most comprehensive list possible of the Motif XF new features (compared with the Motif XS):
– 741 MB extended ROM with more than 50% new samples
– New sounds and arpeggios: 128 voices, 128 performances, 8 drum kits, 1248 arp styles, and 32 masters
– Internal 128 MB SD-RAM for sampling (volatile)
– Two slots for 512 or 1024 MB of optional FlashRam
– Improved file management
– Sample auto-mapping
– Improved category search page. The Main, Sub and Voice lists can be accessed using the software buttons 1–3. You can now search within all waveforms and arpeggios.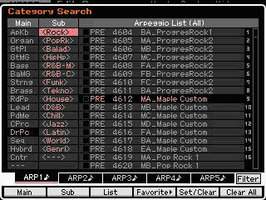 – Tap tempo function via the software button SF6 in voice, performance, song, pattern, and master modes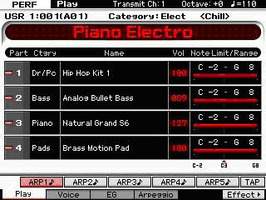 – Independent settings for both assignable buttons (on the front panel to the left) for each part of a performance or mix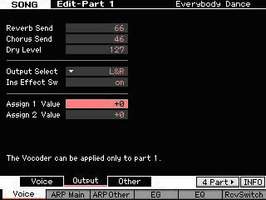 – Possibility to keep bass drum and snare sounds between all five arpeggio variations of a Drum program when other kits are programmed in different variations
– "Arp Play Only" function for the different channels in performance and mix mode, which allows you to trigger sounds only when the arpeggiator is on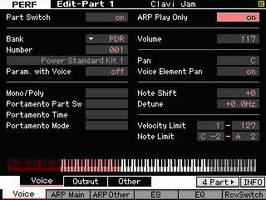 – Direct editing of drum programs in mixing mode with the possibility to save the newly created kit (using the "Vce Edit" software button SF6)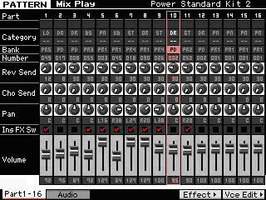 – Fast conversion into Mixing Voices of samples captured from the song or pattern mode without having to change mode
– Multiple Wav/AIFF loading from the same repertory with auto-chromatic sample assignation across the keyboard within the same multisample
– New key-follow sensitivity parameter for the release segment of the volume envelope
– Customization of the text color and screen layout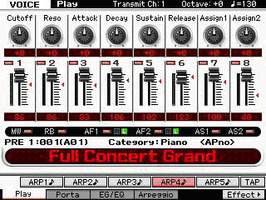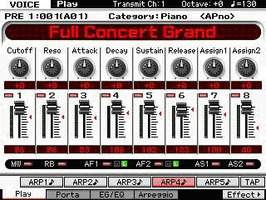 Conclusion
By the end of the test we hadn't finished exploring the Motif XF, which really impressed us with its versatility and power. Motif XS owners who are thinking about upgrading will feel right at home because this new version is clearly an evolution rather than a revolution. Moreover, the newcomer still belongs to the "X" series. The new waveforms are a very valuable addition considering their quality. But above all, people who had to wait minutes for the RAM to reload after a power failure on stage or in the studio, know how priceless the FlashRam option is. The technology was available, the ability to manage it too, and we appreciate the fact that we don't have to wait for the next technological break to enjoy it. With the Motif XF, just switch on and relish: regardless of whether you are on stage or in the studio, it is well ahead of the competition!